Hello Garden Friends: This is beautiful gardening weather and there is lots going on in a food pantry garden near you!
Agape Garden, 7384 NW 16th Street in Ankeny (Next to the Faith Chapel and close by John Deere)
WE HARVESTED 335 LBS on Tuesday night. We are now over 1100 lbs this year! Over 150 lbs of broccoli, also cabbage, beets peas, yellow and green beans, onions, peppers.
There will be more to do on Thursday We need your help with mulching, weeding, watering, planting as well as harvesting. PLEASE JOIN US
Volunteer hours in the Agape garden are almost every Tuesday and Thursday evenings around 6:30. Call Craig Crist to verify time and dates @ 515-577-8260 leave message if no answer. The Agape Garden always needs help.
A bumper crop from the Agape Garden……..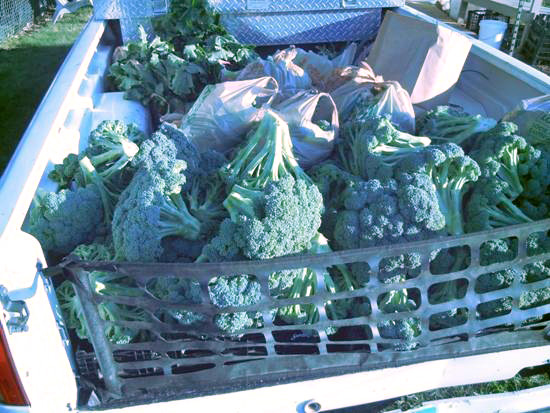 Faith & Grace Garden. Corner of 24th & Ashworth, WDM, just west of St. Timothy's, park in the lot north of the church off 24th Street.
So far, we have donated about 600 pounds of produce; mostly turnips, onions, peas and beans.
If you can stop by and water or weed now for just an hour in the evening, it would really help. There will be someone in the garden to point out where help is needed Mon – Thursday evenings between 6:30 pm and 8:30 pm. Please note, we will not be in the garden on Friday evening or Saturday this week. Mark Marshall's daughter, Michelle is getting married and we will be celebrating!
Our Garden has expanded!!!  Our Friends to the West at Covenant Presbyterian Church have generously allowed a portion of their land to be used to plant additional food to feed the hungry.  We've already planted sweet potatoes in the field and we're hoping for rain!!!  http://www.wdmcovenant.org/ 
St. Anthony's Garden of Eden
For information about the Garden of Eden, please contact John at comphelp@ecity.net or by calling 515-240-3146.
St Francis of Assisi Garden The garden is located across the street to the North, from St Francis of Assisi church in the North-east corner of the playground.
Things are going great! Everything is planted and we are staying somewhat ahead of the weeds.
We have already donated radishes to the DMARC Food Pantry. We have had wonderful help on Sundays from 6-7 and some during the week, pulling weeds. The garden is looking good!!
For more information, contact Jan Hoeman at Janhoeman@mchsi.com
Urban Harvest Garden – An outreach of Urban Heights Covenant benefitting the Urbandale/Windsor Heights Food Pantry 7605 Aurora, Urbandale, Iowa 278-1371
The garden has been planted and looks beautiful. The kale is almost ready to be harvested and some of the early tomatoes are already setting tomatoes. Green onions will be pulled shortly and the rest left to develop into dry onions. We have planted them with the tomatoes as companion plants to help control insects. We will see if it works. Wednesday night work this week will basically be a little weeding and watering.
You can go to the church website at desmoineschurch.org to donate using PayPal. All donations are tax deductible. ALL produce is donated to the Urbandale/Windsor Heights food pantry. You can also connect to the blog and Facebook there. For further information contact Garden Manager Beth Rydberg at 314-2114
For information and best times to garden, please email Beth Rydberg at brydberg@mchsi.com
Cool stuff from our friends at The Lord's Acre………
Free TEDxManhattan DVDs have been completed. If you would like a copy (free
of charge) for educational purposes, just let them know. The disc includes
talks from all the speakers at the 2012 TEDxManhattan ³Changing the Way We
Eat² event. www.tedxmanhattan.org
PCUSA Grants: The Presbyterian Hunger Program is encouraged by the emergence of the many faith-based initiatives sprouting up around the country to bring resilience to
our food system, and health to people and God's Creation. These efforts often
engage people of all ages, result in greater food security, give people decision-making power over their food, increase healthy eating, create jobs and local economic growth, support local family farmers, use land ecologically, raise awareness about local and global hunger and poverty, and encourage a view of food as sacred and as a right for all people. When done well, such initiatives are wonderful ways to build relationships, community and power. We are eager to support this work as one small way we can help build God's vision of a New Heaven and New Earth.
Applications will be accepted on a rolling basis. Grants are for $100-$1,000
with a total of $20,000 available for the year. Turn-around for approved grants will be less than four weeks. Download the application form here
Check out Farm Hack
It's a network for sharing open source know-how amongst the
distributed fringe of DIY agricultural-tech aficionados and innovators.
One Bite Lessons: An edible activity that doesn't require a kitchen or
excessive preparation. A fun and creative way to have kids sample plants
right from the garden. Share your One Bite Lesson ideas and view what others have shared here.
A copy of The Hands That Feed Us can be downloaded here.
Cabbage & Caramelized Onion Tart
2 tablespoons extra virgin olive oil
2 medium onions, cut in half root to stem, then thinly sliced across the grain
Salt
2 garlic cloves, minced
1 small cabbage, shredded or chopped (about 6 cups)
Freshly ground pepper
4 eggs
3/4 cup low-fat milk
1/2 cup, tightly packed (2 ounces) Gruyère cheese
1 yeasted olive oil pie crust
(1/2 recipe)
1. Heat 1 tablespoon of the olive oil in a large, heavy nonstick skillet over medium heat. Add the onions, and cook, stirring, until they begin to sizzle and soften, about three minutes. Add a generous pinch of salt and the garlic. Stir everything together, turn the heat to low, cover and cook slowly for 45 minutes, stirring often, until the onions are very soft, sweet and light brown.
Meanwhile, heat the remaining olive oil over medium heat in another large skillet. Add the cabbage. Cook, stirring often, until it begins to wilt, then add salt and pepper to taste. Continue to cook for another 10 to 15 minutes, stirring often, until the cabbage is tender and fragrant. Stir in the onions, simmer together uncovered for about five minutes or until there is no longer any liquid in the pan, and remove from the heat.
2. Heat the oven to 350 degrees. Oil a 9- or 10-inch tart pan and line with the dough. Beat the eggs and milk in a bowl and season with salt (about 1/2 teaspoon) and pepper. Stir in the onions, cabbage and cheese, and combine well. Scrape into the tart pan, and place in the oven. Bake 40 to 45 minutes until the top is lightly browned.
Yield: Serves six.
Advance preparation: You can make the filling through Step 1 up to three days ahead. Refrigerate in a covered bowl.
Nutritional information per serving: 307 calories; 17 grams fat; 4 grams saturated fat; 171 grams cholesterol; 29 grams carbohydrates; 6 grams dietary fiber; 273 milligrams sodium (does not include salt added during preparation); 13 grams protein
Martha Rose Shulman can be reached at martha-rose-shulman.com. Her latest book, "The Very Best of Recipes for Health," was published recently by Rodale Books.