Hello Garden Friends:
Many Winners in the Name that Vegetable Contest!
It's purslane….an annual succulent that some scorn as an evasive species commonly called pigweed. Purslane has a slightly salt and sour taste; and is high in vitaminsA, B, C and carotenoids as well as dietary minerals, such as magnesium, calcium, potassium, and iron.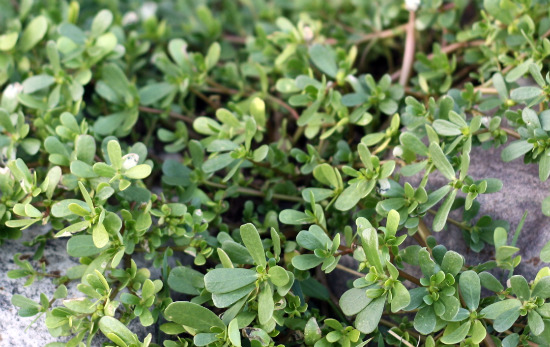 This year, the purslane going wild throughout our garden was "discovered" to the delight of a Latino women's club who work and socialize in the garden a couple of times each month. Purslane is a staple of their cuisine as an essential ingredient of basic green sauces which is the foundation of many dishes (think Chicken Mole). Purslane is drought tolerant, too!
The Faith & Grace Garden is now harvesting purslane for donation at many food distribution sites where it is well received.
Portulaca oleracea Scientific classification  or Common Purslane
For more information, paste http://en.wikipedia.org/wiki/Portulaca_oleracea into your bowser.
Robin, Margaret, Mark, David, Elvin, Ruth, Jane and Susan (from NC) as well as the rest of you may claim your prize at the end of the message…many purslane recipes!! 
Here's what is happening in a food pantry garden near you……..
 Agape Garden, 7384 NW 16th Street in Ankeny (Next to the Faith Chapel and close by John Deere)
Craig Crist reports the Agape gardeners harvested a cabbage weighing nearly 10 pounds recently. Over 3,800 pounds donated this year!! The garden is really starting to produce!
Volunteer hours in the Agape garden are almost every Tuesday and Thursday evenings around 6:30 and Saturdays from 8 am until Noon. Call Craig Crist to verify time and dates @ 515-577-8260 leave message if no answer. The Agape Garden always needs help.
Faith & Grace Garden.  Between 24th & 28th Streets north of Ashworth Road, WDM, by Covenant Presbyterian Church and St. Timothy's Episcopal Church, park in the lot north of St. Timothy's off 24th Street.
Picnic/Followed by Gardening, Friday, July 13. Potluck picnic starts at p.m. with gardening at p.m.. Bring a side from the deli and table service. Drinks provided. Bring the family. We will be harvesting vegetables for donation to the Trinity United Methodist food giveaway on Saturday morning. Please contact Tim by 3 pm on Friday if you plan to attend at timothyjgoldman@gmail.com or call 745-9842. Special note: Name that vegetable contest winners attending the picnic will receive some fresh gourmet garlic from the garden, too!!
Below are harvest totals through July 10 for the Faith & Grace garden followed by the organization to which the food was donated.
Units in Lbs


Total

Peas

140

Bush Beans

254

Broccoli

10

Cabbage

66

Chard

34

Kale

20

Lettuce

134

Onions

559

Purslane

55

Peppers

10

Total Harvested

1,777

                              


Where the food went….

Eddie Ds

156

DMARC

390

Trinity

691

Family Violence Shelter

65

Catholic Workers

25

Cottage Grove Pres

0

Cavero Park/Bidwell Riverside

450

Total Donated

1,777
In addition, 88 dozen ears of ear have been harvested so far this season.
St. Anthony's Garden of Eden
For information about the Garden of Eden, please contact John at comphelp@ecity.net or by calling 515-240-3146.
 St Francis of Assisi Garden The garden is located across the street to the North, from St Francis of Assisi church in the North-east corner of the playground. We are picking beets, tomatoes, and zucchini and having a great year! Volunteer day in the garden is p.m. – p.m. on Sunday, but volunteers working independently anytime are welcome.

For more information, contact Jan Hoeman at Janhoeman@mchsi.com.
Urban Harvest Garden – An outreach of Urban Heights Covenant benefitting the Urbandale/Windsor Heights Food Pantry 7605 Aurora, Urbandale, Iowa  278-1371
You can go to the church website at desmoineschurch.org to donate using PayPal.  All donations are tax deductible.  ALL produce is donated to the Urbandale/Windsor Heights food pantry. You can also connect to the blog and Facebook there.
For further information contact Garden Manager Beth Rydberg at 314-2114.
For information and best times to garden, please email garden manager Beth Rydberg at  brydberg@mchsi.com or by calling at 314-2114.
Recipes: Purslane
Think of it as a weed, and you'll be missing out on one of the most nutritious greens on the planet. Purslane has more beta-carotene than spinach*, as well as high levels of magnesium and potassium. Historically it has been used as a remedy for arthritis and inflammation by European cultures. Chinese herbalists found similar benefits, using it in respiratory and circulatory function. Recently, it's been found that purslane has alpha linolenic acid, a type of omega-3 fatty acid. Researchers see evidence that these substances lower blood pressure and cholesterol levels as well as make the blood less likely to form clots. And, purslane has only 15 calories per 100 g portion.
World-wide there are approximately 19 genera and approximately 500 species of purslane. The U.S. is home to 9 genera alone. It is most commonly found in the warm temperate regions of the northern hemisphere. Purslane exhibits the most species diversity in Western North America and South Africa, where it is likely to have originated. Part of the reason for its evolutionary success is that a single plant can produce up to 52,300 seeds. What's more, purslane seeds can survive for up to 30 years in undisturbed soil. Several ancient cultures have included purslane as a part of their cuisine, including those of Greece and Central America. Russians dry and can it for the winter. In Mexico it is called verdolaga and is a favorite comfort food. There, it is eaten in omelets, as a side dish, rolled in tortillas, or dropped by handfuls into soups and stews.
PURSLANE POTATO SALAD
Serves 4-6
In a medium pot, boil 5 cups chopped potatoes until tender. Drain and set aside to cool. In a bowl, mix 1 cucumber chopped into half moon slivers, 1 cup purslane leaves and buds (flowers and stalks are edible as well, if you choose), and 1 cup chopped scallions with greens. Add potatoes and mix well.
In a small, wide bowl, whisk 1 egg yolk until smooth. Drip in, whisking constantly, 1 cup olive oil, making sure to add slowly enough to keep mixture opaque. Add 1 teaspoon salt and 1-2 finely chopped Serrano peppers. Mix well. Spoon over potato and vegetable mixture (there may be some spicy mayo leftover; it will keep in the fridge for at least a week, if not longer), adding several tablespoons white wine or cider vinegar and fresh ground pepper and salt to taste. Toss well and serve at room temperature.
Cucumber-purslane-yogurt salad
5 large Cucumber, peeled, seeded and cut into quarter-round slices
1/4 pound Purslane, large stems removed, washed and drained well
2 tablespoons each, Fresh chopped mint, cilantro and chervil
4 cups Whole milk yogurt
1/4 cup Virgin olive oil
3 cloves Garlic, puréed with the blade of a knife
2 teaspoon ground Coriander
kosher Salt and ground Black Pepper
Place the cucumber, purslane and herbs into a large bowl. In another bowl, stir together the yogurt, olive oil and garlic, coriander and season to taste with salt. Add the yogurt mixture to the vegetables and mix well. Add a pinch of ground black pepper. Taste the dressed cucumber-purslane salad for seasoning, adding a little more salt if needed. Serve chilled.
VERDOLAGO CON HUEVOS
| | |
| --- | --- |
| 2 cups purslane, with stems, diced | 6 eggs |
| 1 cup wild or domestic onion | Butter |
| 1 cup nasturtium leaves and stems, diced | |
Carefully clean and rinse the purslane. The entire above-ground plant can be used as long as it is still tender. Add the diced onion and purslane to a heated and buttered cast-iron skillet. Cook for about five minutes. Add the eggs and cook omelet-style. Serve with a tomato slice. Serves three.
FRIED PURSLANE
| | |
| --- | --- |
| Approximately 1 cup of purslane growing tips | Flour |
| Ground bread crumbs | Beaten eggs |
Collect the tender new tips of purslane–about the last two or three inches from the stems. Rinse these in water to remove any sand. Roll them (or shake them) in flour until thoroughly floured, and then dip in the beaten eggs. Cover each purslane stalk with bread crumbs. This process is easiest to do if you simply line up the three dishes of flour, eggs, and bread crumbs, and do the breading production line style.
When the breading is done, fry or saute each purslane stalk for about five minutes or until golden brown. Serve with catsup, mustard, or sour cream. This is a unique hors d'oeuvre for even your finest, fanciest parties.