We are having a Great Year in the Garden!!
Last year we grew and donated a near record 16,300 pounds of organic produce. This year we are doing even better. How much better? Well, as of August 12, 2020, we had donated 4,200 pounds. This year, as of August 13 we have donated 7,600 pounds!
We came to the garden on Monday and there it was…A big thank you to the anonymous donor of this new wheelbarrow!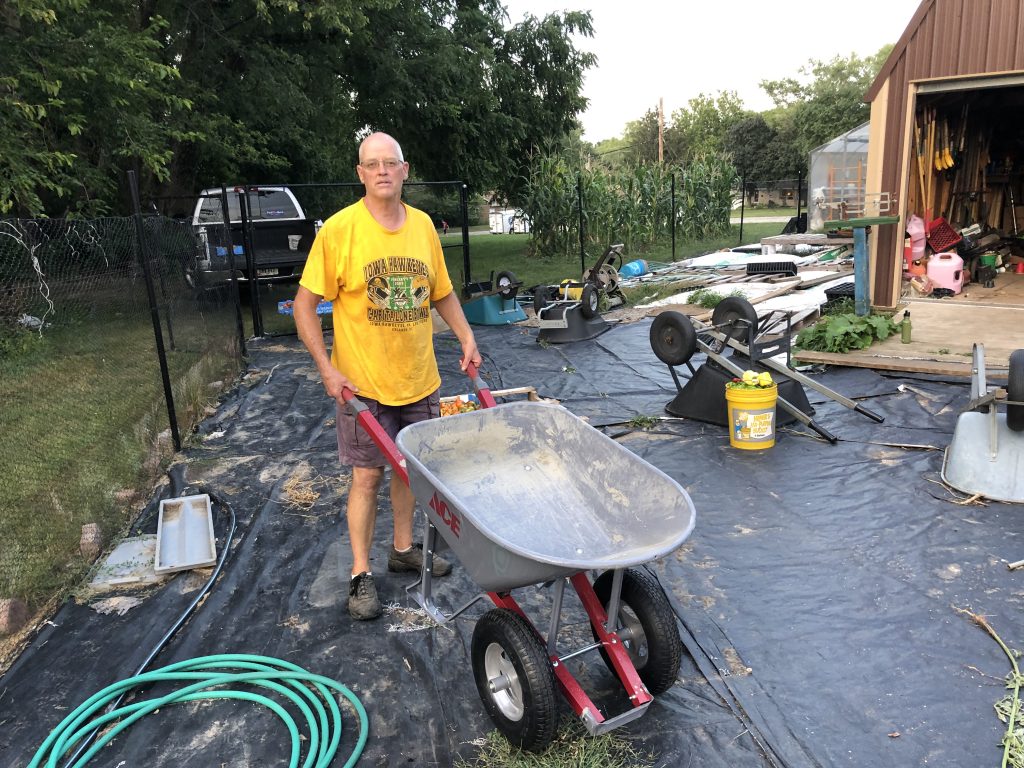 Name that Vegetable Contest….no one guessed correctly this year
Our mystery vegetable was a giallo squash. It originates in Italy. We tried the 'monster' variety which regularly grows to over 5 pounds. This one weighed nearly 45 pounds!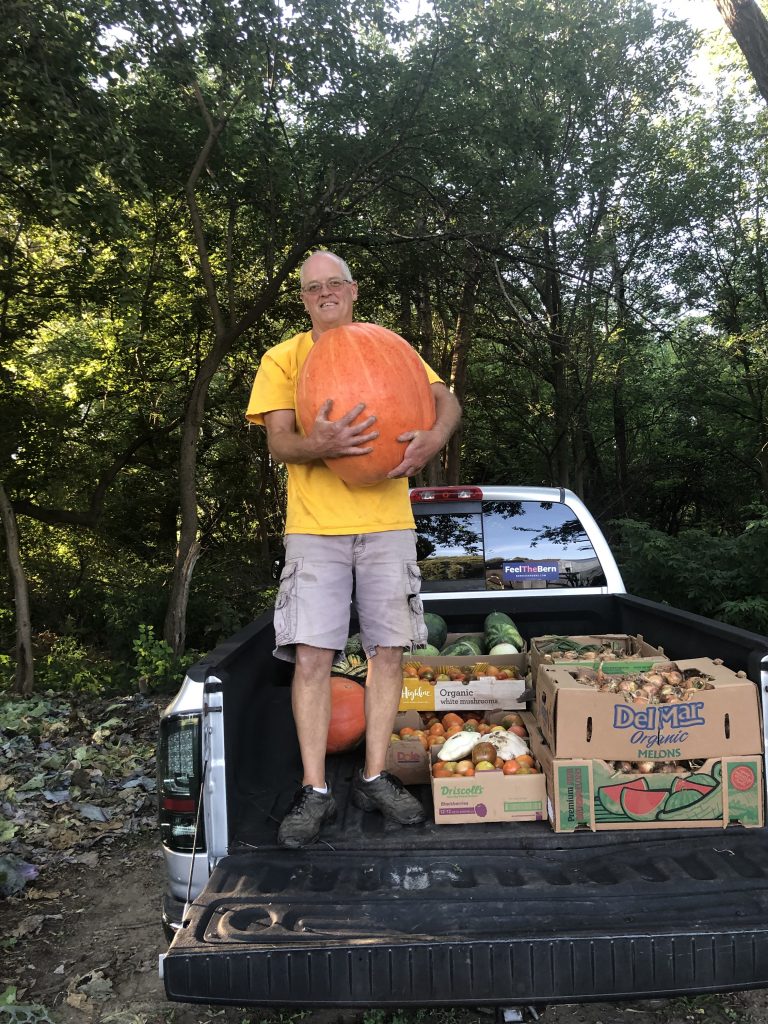 ---
Watering and harvesting…can you help?
Volunteer times in the garden are as follows:
| | | | | | |
| --- | --- | --- | --- | --- | --- |
| | Monday | Tuesday | Wednesday | Thursday | Friday |
| June – Oct | 6-8pm | 9-11am | 6-8pm | 9-11am | 6-8pm |
To volunteer in the garden, please sign-up at:
https://www.signupgenius.com/go/10C0A4AA9A82EA6F58-faith
Why sign-up? It helps us to plan our activities and to communicate, especially when the weather looks bad and we need to cancel.
There are also opportunities to volunteer in the garden by appointment, contact Mark Marshall at 988-5381 or wdmmarshall@msn.com to arrange a convenient time.
We ask that volunteers coming to the garden observe the CDC's guidelines. If you are not fully vaccinated and wish to volunteer, please let us know and we will arrange to make your time in the garden safe for all.
As always, volunteers should dress for the weather, wear hard soled shoes, and bring garden gloves if you have them. Gloves are also available at the garden if you do not have them.
If you cannot volunteer your time, consider a financial donation to continue this important work. Send your check to St. Timothy's, 1020 24th Street, West Des Moines, IA, 50266. Please note Faith & Grace Garden in the memo line.
Here are harvest and donation results through August 21
| | |
| --- | --- |
| What we grew |                          Pounds |
| Bush Beans | 344 |
| Cabbage | 2,762 |
| Cantaloupe | 296 |
| Cauliflower | 10 |
| Cucumbers | 497 |
| Eggplant | 68 |
| Garlic/ garlic scapes | 36 |
| Kale | 465 |
| Lettuce | 88 |
| Onions |                              285 |
| Peas | 80 |
| Peppers | 411 |
| Summer Squash | 854 |
| Tomatoes | 3,209 |
| Water melon | 335 |
| Winter Squash | 199 |
| Total Harvested | 9,939 |
| | |
| Donation site | Pounds |
| Trinity | 4,983 |
| Johnston | 15 |
| Urbandale | 85 |
| Catholic Workers | 0 |
| Central IA Shelter | 58 |
| DMARC | 945 |
| WDM Human Services | 3,853 |
| Total Donated | 9,939 |
| | |