Here's what's happening in a garden near you:
Agape Garden, 7384 NW 16th Street in Ankeny (Next to the Faith Chapel and close by John Deere)
The Agape Garden is over 24,000 square feet in size and Craig Crist says is the garden is over 40% planted already! All the peas, sugar snap peas, radishes, carrots, spinach, broccoli, onions and over 250 pounds of potatoes are planted. The Agape Garden is also expanding the asparagus bed by 150 crowns.
In other news, the Agape Garden is getting ready to plant 30 new fruit trees, plus evergreens, oaks and birch trees thanks to a grant from Trees Forever. Craig also says the Agape Garden will also be building a garden shed this year.
Volunteer hours in the Agape garden are almost every Tuesday and Thursday evenings around 6:30 to dark and Saturday mornings around 8:30 til noon. Call Craig Crist to verify time and dates @ 515-577-8260 leave message if no answer. The Agape Garden always needs help.
Faith & Grace Garden,  Corner of 24th & Ashworth, WDM, just west of St. Timothy's, park in the lot north of the church off 24th Street.
Volunteer Training Day – Saturday, April 21 at 10:30 am, in the Parish Hall at St. Timothy's
Adult volunteers, old and new, are invited to this opportunity to learn about how to be a great garden volunteer. We will have lots of students and children in the Faith and Grace Garden this year. Adult volunteers are needed to help and guide them. At this training session you will learn how the Faith and Grace Garden is organized and operated so that volunteers can have a rewarding, productive, and safe experience in the garden.
Earth Day Celebration Weather permitting, Saturday and Sunday, April 21 and 22, from 1pm – 5pm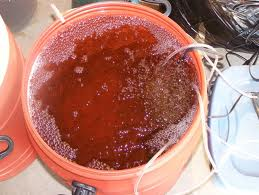 We will be mulching the garden with newspapers and wood chips on both days. On Sunday, we will demonstrate the use of worm castings and worm tea in the garden. There will be a demonstration of how to make an inexpensive home worm tea brewer for use around your yard and garden.
Making worm tea with a brewer
St. Anthony's Garden of Eden
Volunteer hours are Monday, Wednesday, and Friday mornings starting at 11 am running through May.
The Garden of Eden Project (GOEP) uses nearly ten acres of land spread out across the south side of Des Moines. We have 16 raised box gardens (4 x 12), 8 back yards, and 5 acres we are allowed to use for the Garden's purposes. This land allows us to produce literally tons of fresh fruit and vegetables for the hungry in our Metro area.
For information about the Garden of Eden, please email John Piper or by calling 515-240-3146.
St Francis of Assisi Garden The garden is located across the street to the North, from St Francis of Assisi church in the North-east corner of the playground.
Weather permitting, the St. Francis of Assisi Garden will start the gardening season this Sunday, April 15. We plan to put up fence and plant potatoes. For more information, contact Jan Hoeman
We meet on Sunday evenings 6 pm – 7pm in the garden and as things get going, also on Wed mornings at 9pm.
Urban Harvest Garden – An outreach of Urban Heights Covenant benefitting the Urbandale/Windsor Heights Food Pantry
7605 Aurora, Urbandale, Iowa  278-1371
We are experimenting with new ways to plant potatoes. Potatoes in rain barrels and other planting methods. If you would like to learn some new ways to plant vegetables for the small home or patio gardens, please join us.
We will work Sunday evening and either Tuesday or Wednesday evening throughout the growing season.  We have a key to the pantry so that makes it easy to deliver fresh produce for distribution the following day.   Of course weeders are always welcome at anytime!
Big on the wish list is an irrigation meter!  We are already starting out dry and are planning to put water conservation practices in place this summer.   We are also exploring drip irrigation6 which conserves water and improves plant health Of course we  will need more fencing and panels to plant additional climbing crops on.
If you would like to read more about the garden join us on Blogger/Urban Harvest.  This year we are hoping for weekly posting with thoughts from the garden, the latest activities and a recipe.  For up to the minute garden happenings join us on Facebook at Urban Harvest.  If you would like to donate to Urban Harvest you can send a check with a designation on the note to:
Urban Heights Covenant
7605 Aurora
Urbandale, Iowa
You can go to the church website at www.desmoineschurch.org to donate using PayPal.  All donations are tax deductible.  ALL produce is donated to the Urbandale/Windsor Heights food pantry. You can also connect to the blog and Facebook there.
For further information contact Garden Manager Beth Rydberg at 515-314-2114
For information and best times to garden, please email Beth Rydberg
See you in the garden!