Volunteer hours in the Faith & Grace Garden:
Monday – Friday, 6:30 pm – 8:30 pm
 Saturday, 10:30 am – NOON
Here's what's happening in the Faith & Grace Garden this week:
Most of the fruits and vegetables are now planted in the Faith & Grace Garden.
This week we will tighten up the garden fence to keep the bunnies out, plant the flower beds, and mulch the strawberry patch.
The pre-schoolers will be planting in the Children's Garden. Here's a diagram of the garden: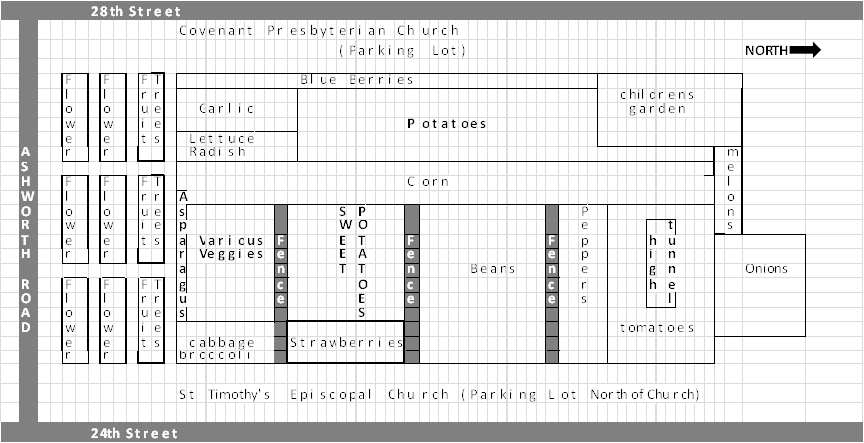 We have plenty of extra seed potatoes and a few sweet potato sets for anyone who can use them. Please contact Mark Marshall for details wdmmarshall@msn.com
Memorial Day Picnic in the Garden. On Monday, May 27, we will be gardening at 4 pm and then have a potluck picnic at 6 pm. Bring a side dish or something from the deli and table service. There are picnic tables but you might bring a lawn chair, too. Please join us for either or both events.

Last week we said good-by for the summer to most of our student volunteers from Dowling Catholic High School. Their energy, enthusiasm, and fun-loving presence will be missed! We expect to see a few of them throughout the summer working on service requirements for next year.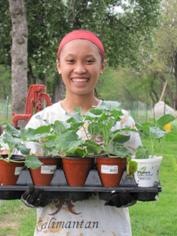 Valley High School exchange student Meutia W K Hakim was recently selected to take part in the 2013 Real Soil, Real Food, A Real Difference summer camp offered through The Wallace Centers of Iowa. We are very proud of her.
Nationwide Insurance employees made a major contribution of time and effort to completing the Children's Garden. Below Nationwide employees are working on the fence that surrounds the Children's Garden.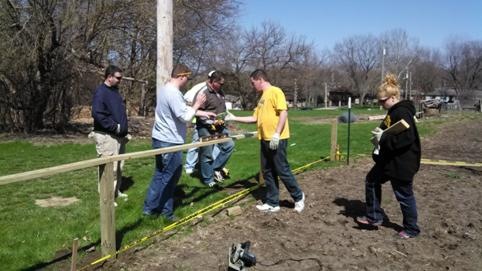 Help! Thursday morning summer transportation needed for Refugee Program Starting Thursday, June 6 from 8am – 10:30am and continuing through the summer, 10 elder southeast Asian retired farmers will be volunteering in the Faith & Grace Garden through Lutheran Services. We need to transport them to and from the garden. If you have a vehicle and would be willing to help, please contact Tim Goldman for details at timothyjgoldman@gmail.com or by calling 745-9842.

Other links of interest from our friends at The Lord's Acre:
A striking photo series you won't forget: What a week of groceries looks like around the world can be viewed here
National Geographic article – A Mixed Blessing – "If we don't watch out, agriculture could destroy our planet. Here's how to grow all the food we need with fewer chemicals." Note the reference to the Harlan, Iowa farmer.
Simple Advice for Composting at Home: If these guys can make it work in the back of a truck, then you can probably manage to start a compost pile at home. Check out their site.
Ten Reasons Organic Food Is Often More Expensive: It's a question everyone asks so look here for one assessment.