News from The Faith and Grace Garden – Production is slowing down as the weather turns cooler and heat-loving plants like tomatoes, eggplant and melons start to wilt. We will be harvesting sweet potatoes in earnest soon and look forward to a large crop. Brassics (cabbage, broccoli, cauliflower, etc) and peppers like cool weather and continue to produce well.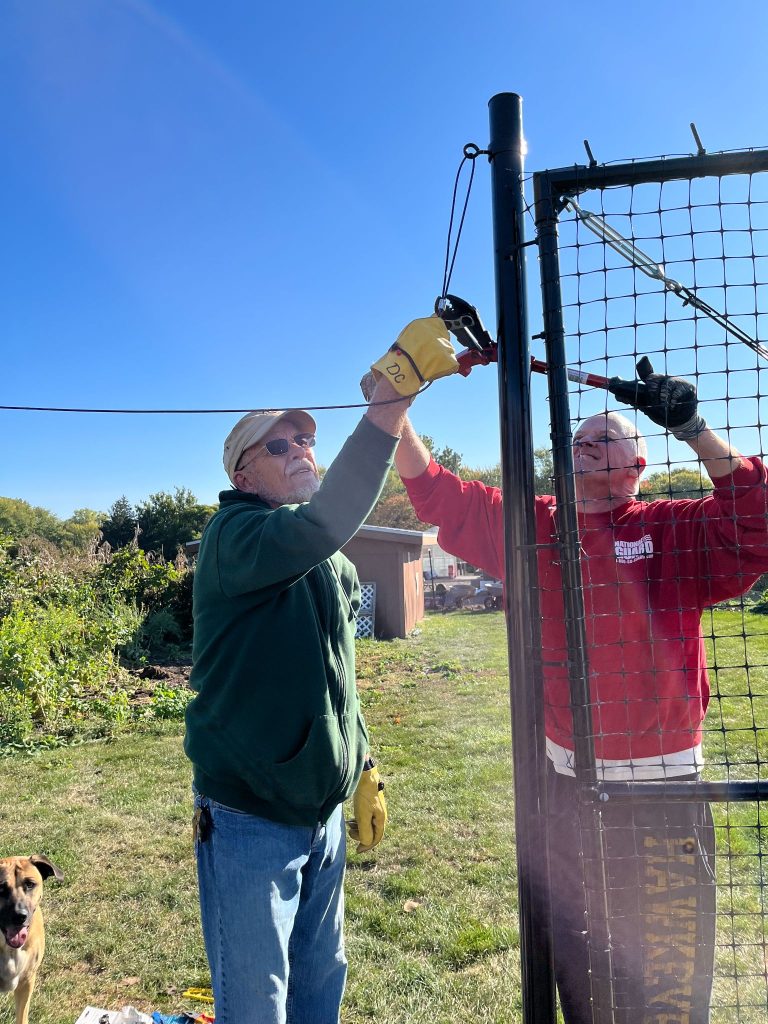 We are erecting a new 'critter-proof' fence around the north end of the garden. The new fence is 71/2 feet high and intended to keep deer out of the garden while the bottom two feet of the fence has a smaller one-inch square mesh to keep out rabbits.
In the picture at right, Dick and Mark are adding a tensioning wire to the top of the fence to keep it taunt.
We hope to finish the fence this month.
---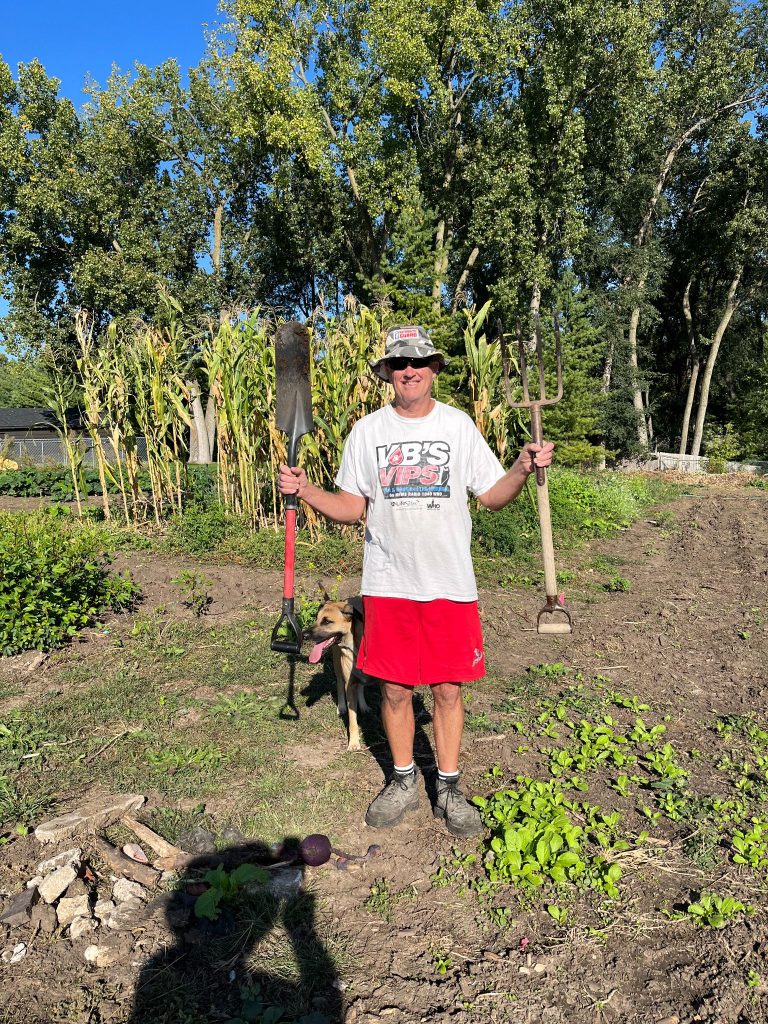 Tools Wanted
This has been a hard year on many of our garden tools, particularly garden forks and drain spades. If you have forks or spades in good condition (wooden handles preferred) that you would like to donate, please drop them off at the picnic table by the parking lot north of St. Timothy's.
---
Garden Harvest Dinner Tuesday, October 24th 2023
Much of what we accomplished in the garden this year, as in years past, is due to our dedicated volunteers.
Please join us for an evening of fun and fellowship as we thank our garden volunteers at the Faith & Grace Garden Dinner.  This celebration is a potluck, so bring your best dish to enjoy! Details are below.
Tuesday, October 24 2023                                                                                             
St. Timothy's Episcopal Church Parish Hall
Doors open at 5pm. Dinner at 5:30pm.
Register & sign up to attend go  HERE. Then scroll to the bottom of the landing page and click the button below.
---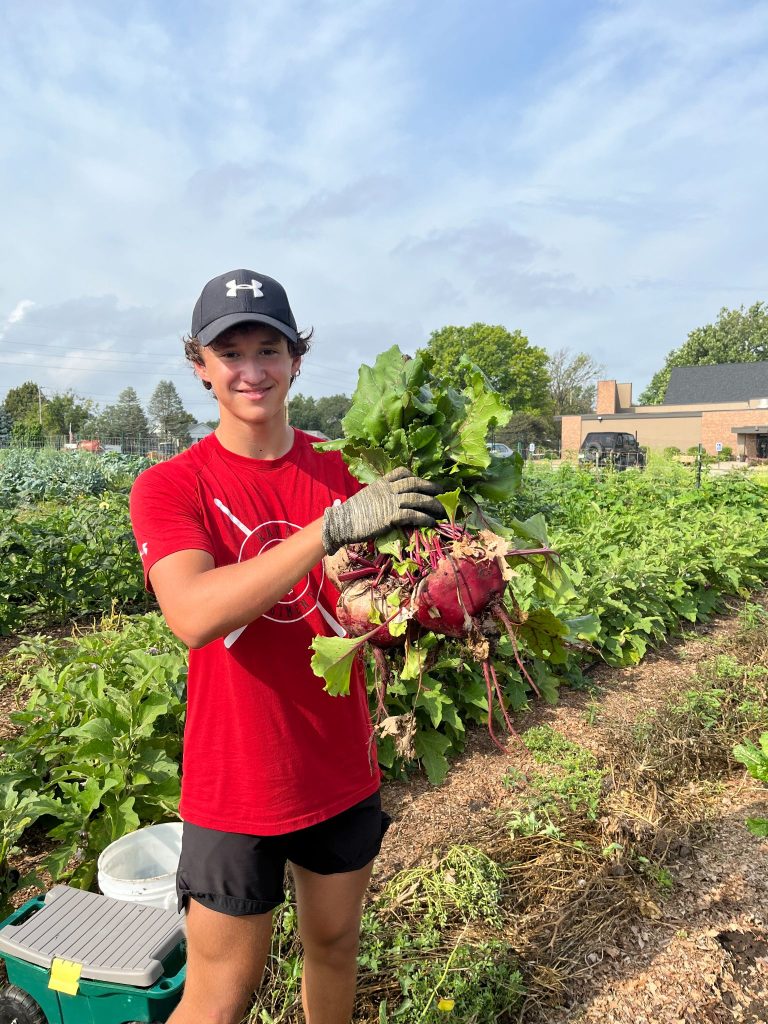 NICHOLAS BYRUM
Nick is a junior at Dowling Catholic High School who volunteered in the garden nearly every weekday this summer.
Nick is a hardworking young man and was a joy as a garden volunteer.
Nick will be honored for his service at the Faith & Grace Garden Dinner on October 24.
On average, about 300 people volunteer in the Faith & Grace Garden annually. Some of our volunteers are students earning service hours. Others are part of a church, civic, or corporate service team. More than a few of our volunteers are community members or neighbors who love to spend time in a garden. While we cannot thank all our volunteers enough, we can recognize a few of our volunteers and organizations here.
---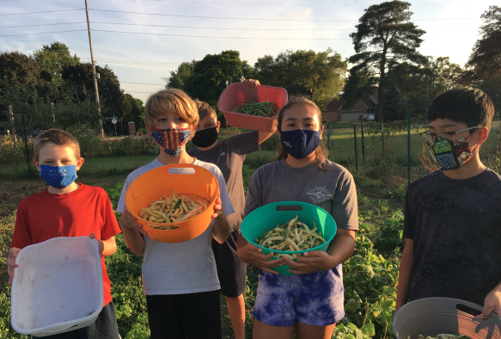 Covenant Presbyterian Church (Right- Kids) has been a partner in the Faith & Grace Garden for over 10 years.
Part of the Faith & Grace Garden sits on Covenant property. The church also supports the Faith & Grace Garden with many volunteers and financially. Children in the Covenant Kids program volunteer in the garden at least four times per year.
---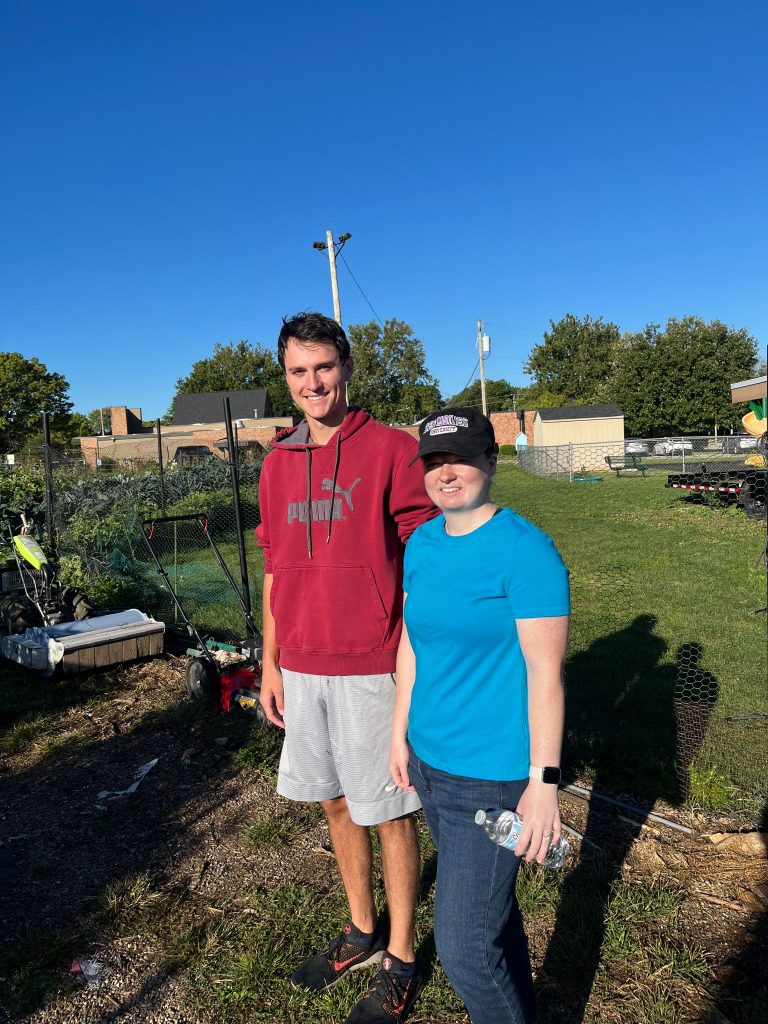 Des Moines University Students (Left)  Evan and Elizabeth have volunteered in the garden several times this year.
Evan and Elizabeth are just two of over a dozen Des Moines University students who have been volunteering in the garden since early in the spring.
Des Moines University students have volunteered in the garden for over three years.
---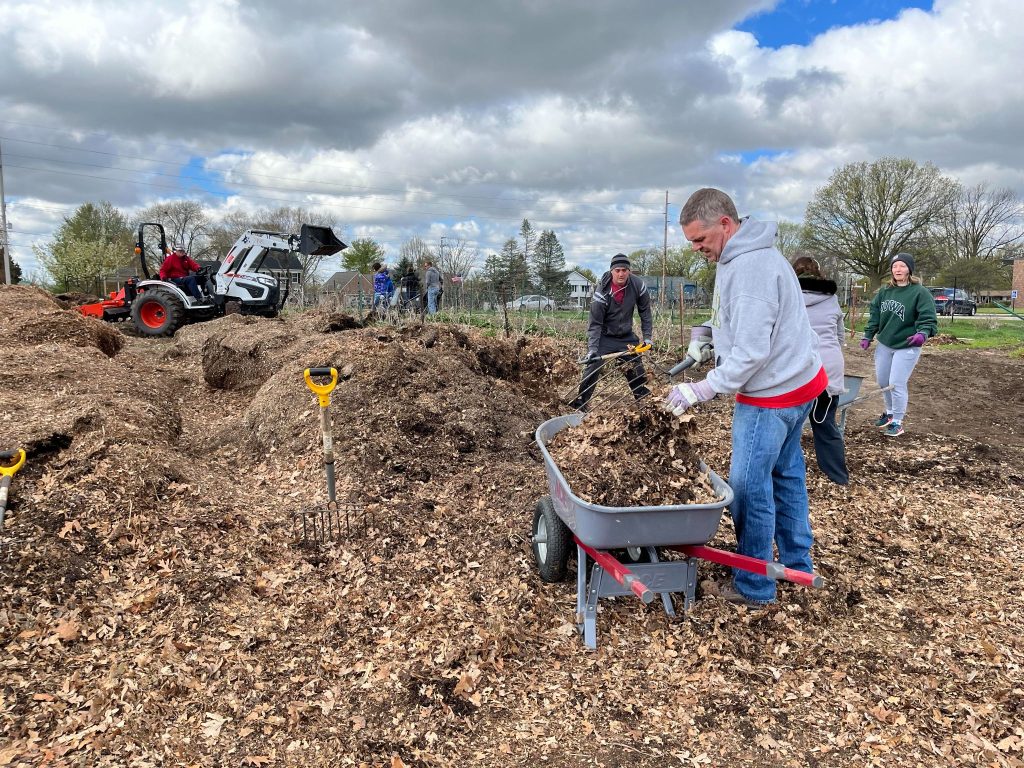 Revision Church Volunteers (Right) can be found in the Garden on the fifth Sunday of the month (4 x annually). The volunteers are part of the ReachDSM ministry at Revision Church.
We look forward to being joined by Revision Church volunteers on October 29 as we ready the garden for winter.This picture was taken when church members helped mulch the garden in April.
---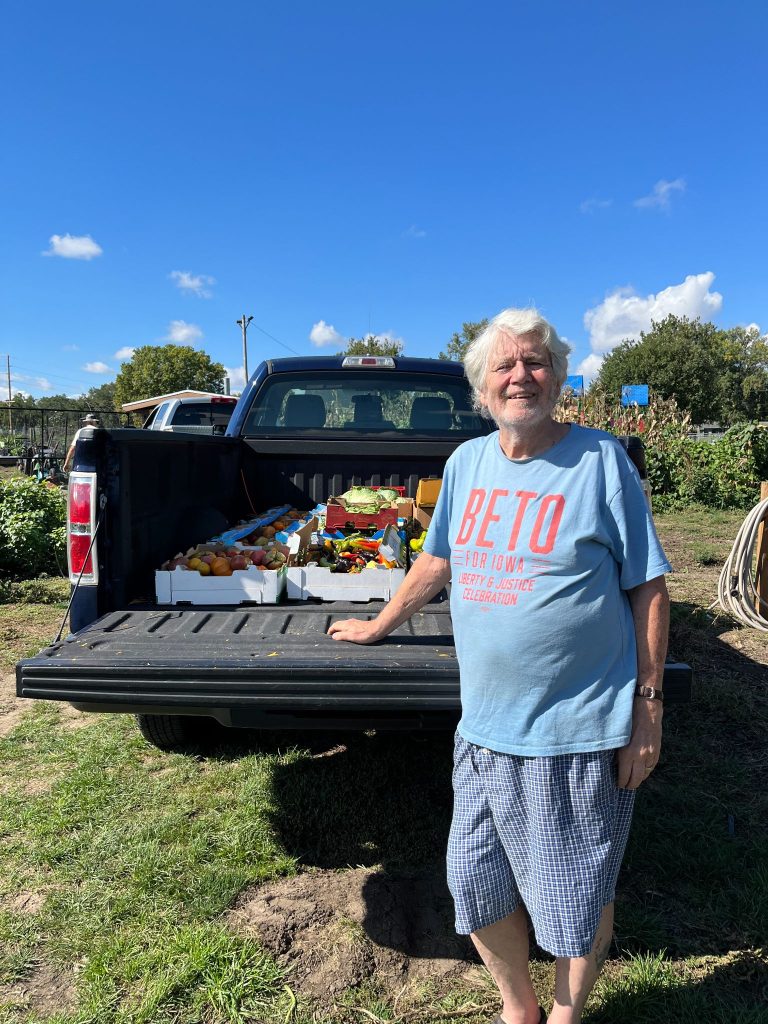 Milton (Left) is a volunteer delivery driver on Mondays and Wednesdays for the Faith & Grace Garden.
Milton picks up produce just after it is harvested in the morning and takes it to WDM Human Services or Trinity Los Americas where it is distributed to hungry people usually the same day.
If you would like to help deliver garden produce, please contact Tim Goldman at timothyjgoldman@gmail.com
---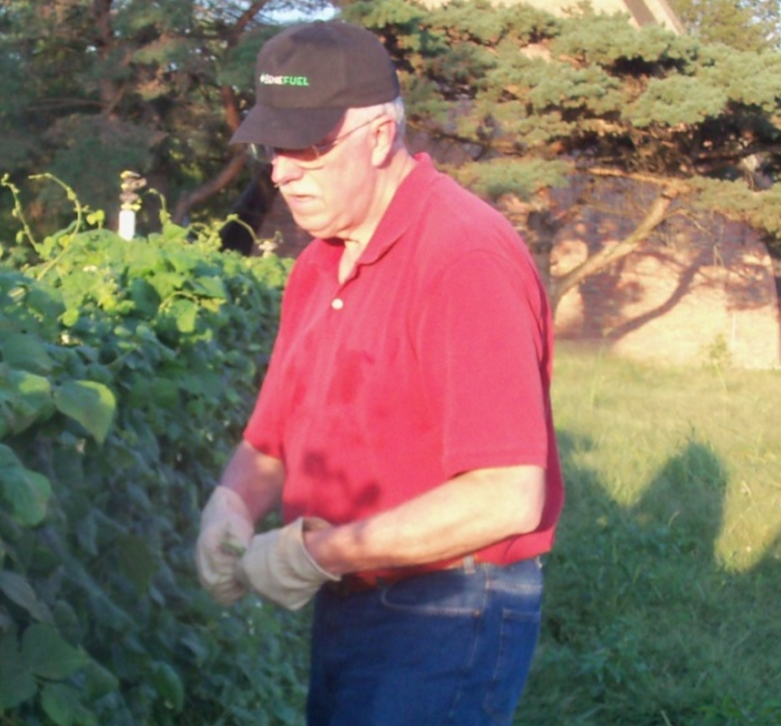 Bill Summers (Right) has been a faithful volunteer in the garden since 2009.
You can find Bill in the garden on Monday mornings.
When Bill is not in the garden, he is often painting nature scenes in watercolor or watching birds and other wildlife.
---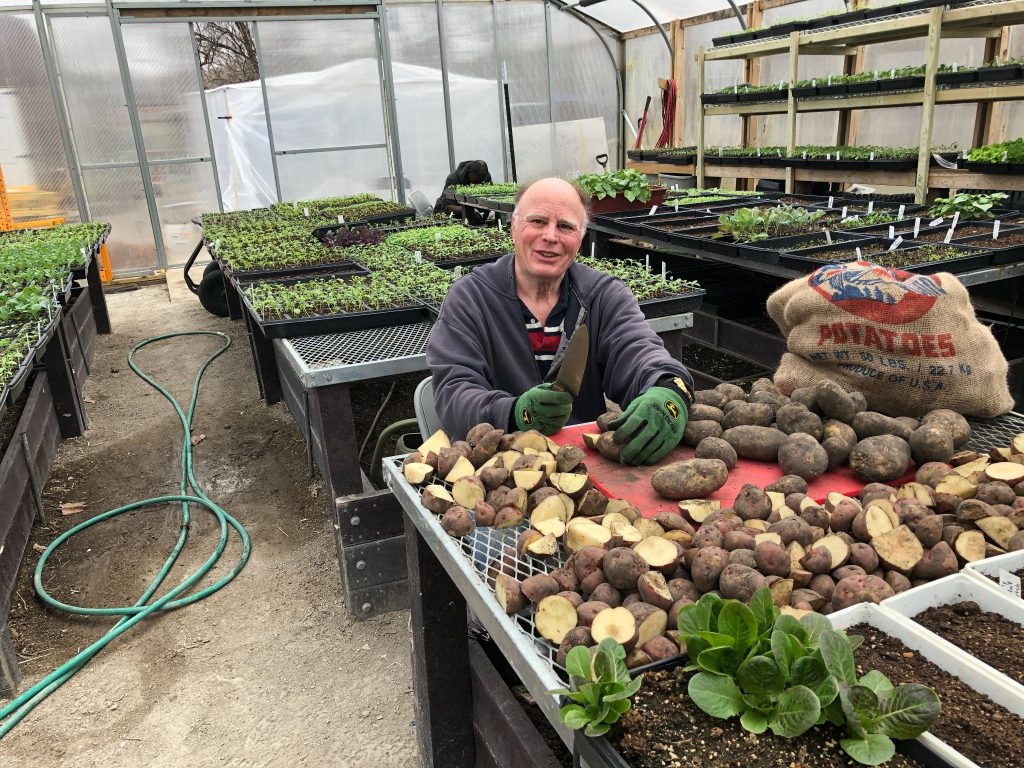 Joe (Left) is an avid gardener who keeps his own garden as well as volunteering in the Faith & Grace Garden.
Joe has been a garden volunteer for about 10 years.  Joe also makes some of the best tasting garden salsa on the planet.
---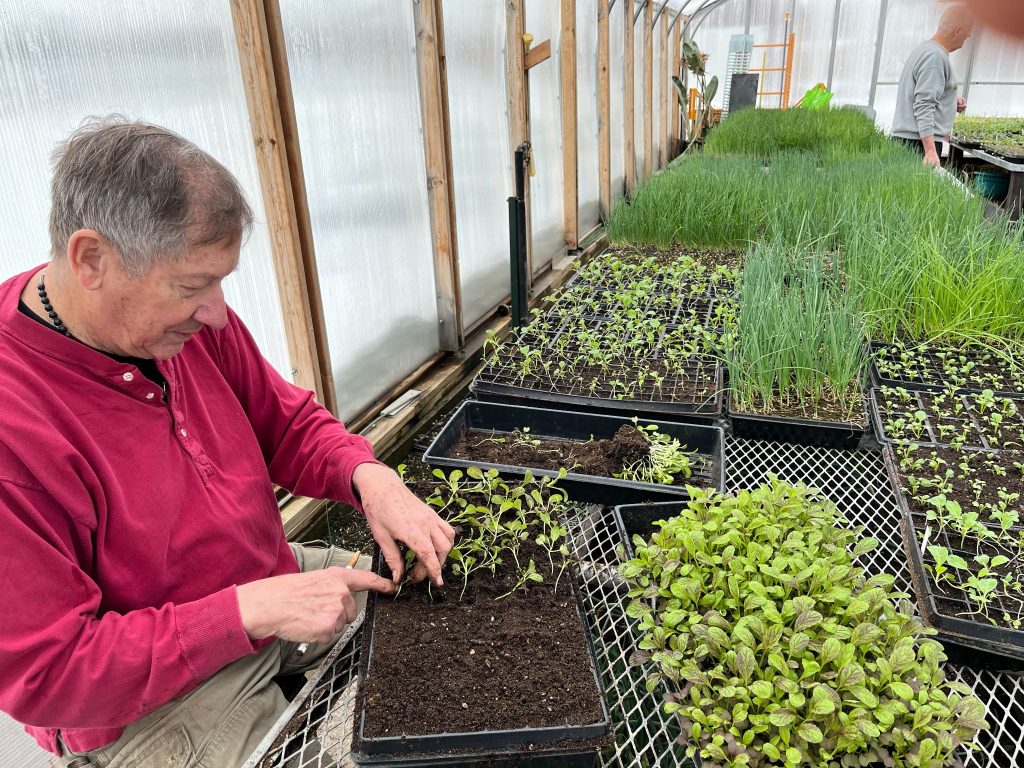 Ken (Right) is now in his second year as a garden volunteer. He started in March helping transplant. Through his help and the work of many other volunteers, we had enough plant sets for our garden and 20 other local donation gardens. We also had two plant giveaways and provided free plant sets to the community. Ken also helped us in the garden this summer.
---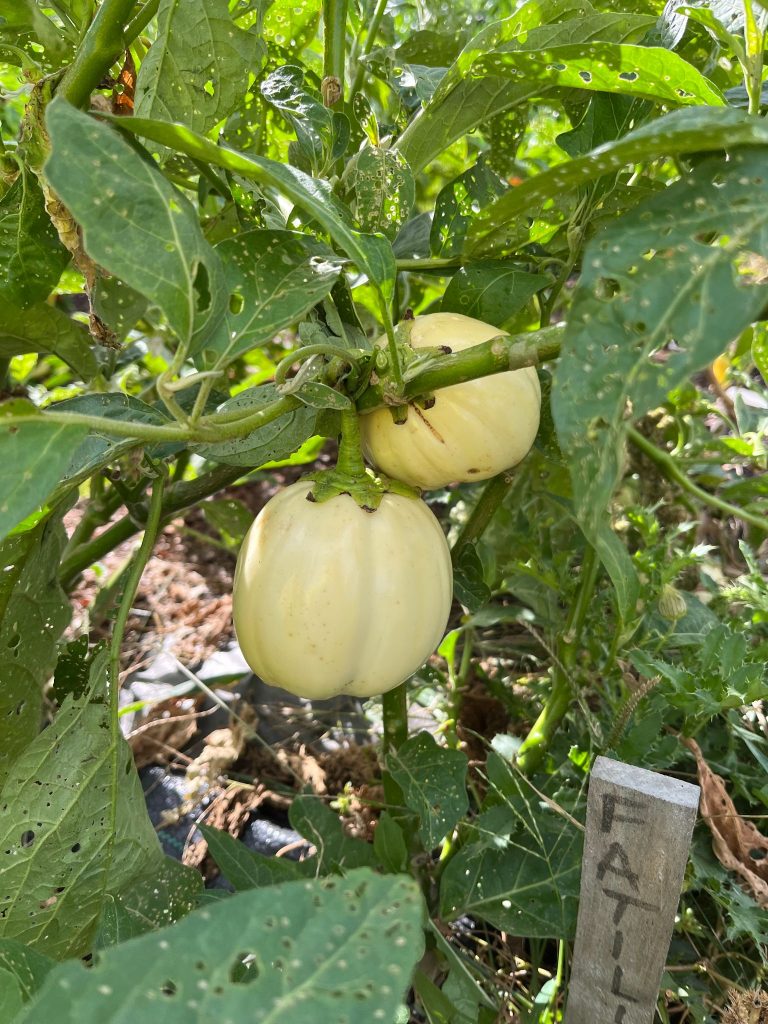 African eggplant, commonly called 'African egg', is new this year in the Faith & Grace Garden. When harvested, it is preferred to be about the size of a hen's egg. It is a staple in central and west African cuisine and often used in curries, soups and sautes.
Nutritionally, the African egg contains fiber, potassium, beta-carotene, ascorbic acid, iron and calcium.
Culturally, African eggs were considered a sign of fertility in folklore, and often given during weddings and child naming ceremonies.
The African egg is becoming more popular and has been introduced in the Caribbean, Central and South America, southern Europe and the United States.
---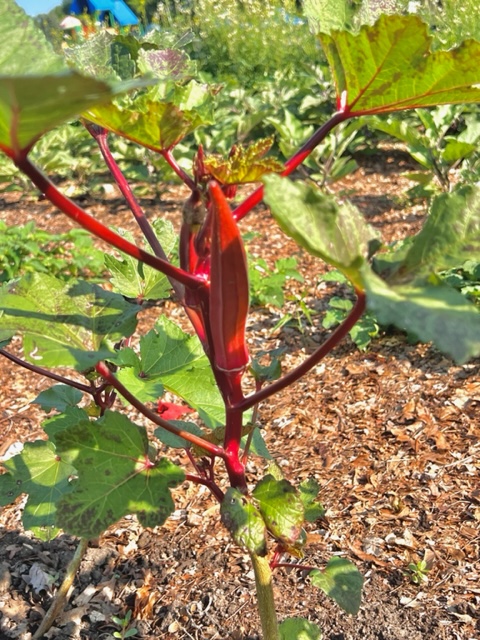 Red Okra. Photo by Pat Prijatel.
The food pantries we serve report a growing demand for okra.
Before the pods form, okra is one of the most beautiful flowering plants in the garden.
Next year we will plant more okra and some new varieties.
---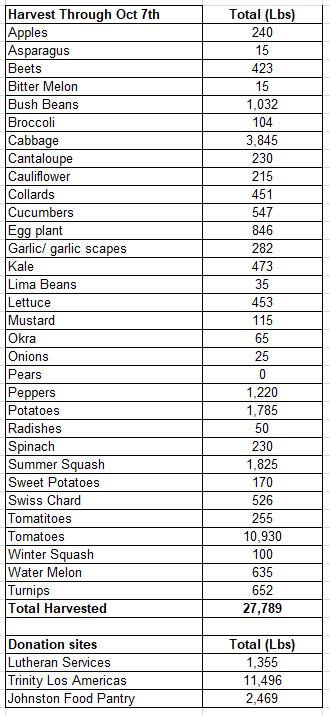 Become a Garden Volunteer…feed the hungry…..love your neighbor….live your faith….could it get any better?!
Volunteer hours are now reduced as we near the end of the season:
Mondays and Fridays only 9 am – 11 am
No experience necessary to volunteer in the garden. Bring a hat, water bottle and garden gloves if you have them. Wear clothes that can get dirty and hard-soled shoes. Sunscreen is a good idea, too.
To volunteer during our regular volunteer hours please sign-up here.
Large groups can volunteer by appointment. School, church, civic, and corporate groups are always welcome in the garden by appointment. Contact Tim Goldman at timothyjgoldman@gmail.com to volunteer as fits your schedule.