News from the Garden – Special Volunteer Edition
As of September 18 we have harvested and donated 25,376 pounds of organic fruits and vegetables from the Faith and Grace Garden. This is our largest harvest by far, and the garden will continue producing more food until at least until the first frost.
Much of what we accomplished in the garden this year, as in years past, is due to our dedicated volunteers. 
Please join us for an evening of fun and fellowship as we thank our garden volunteers at the Faith & Grace Garden Dinner.  This celebration is a potluck, so bring your best dish to enjoy! Details are below.
Tuesday, October 24 2023                                                                                             
St. Timothy's Episcopal Church Parish Hall
Doors open at 5pm. Dinner at 5:30pm.
Register & sign up to attend go  HERE. Then scroll to the bottom of the landing page and click the button below.
---
MEET GARDEN VOLUNTEER OF THE YEAR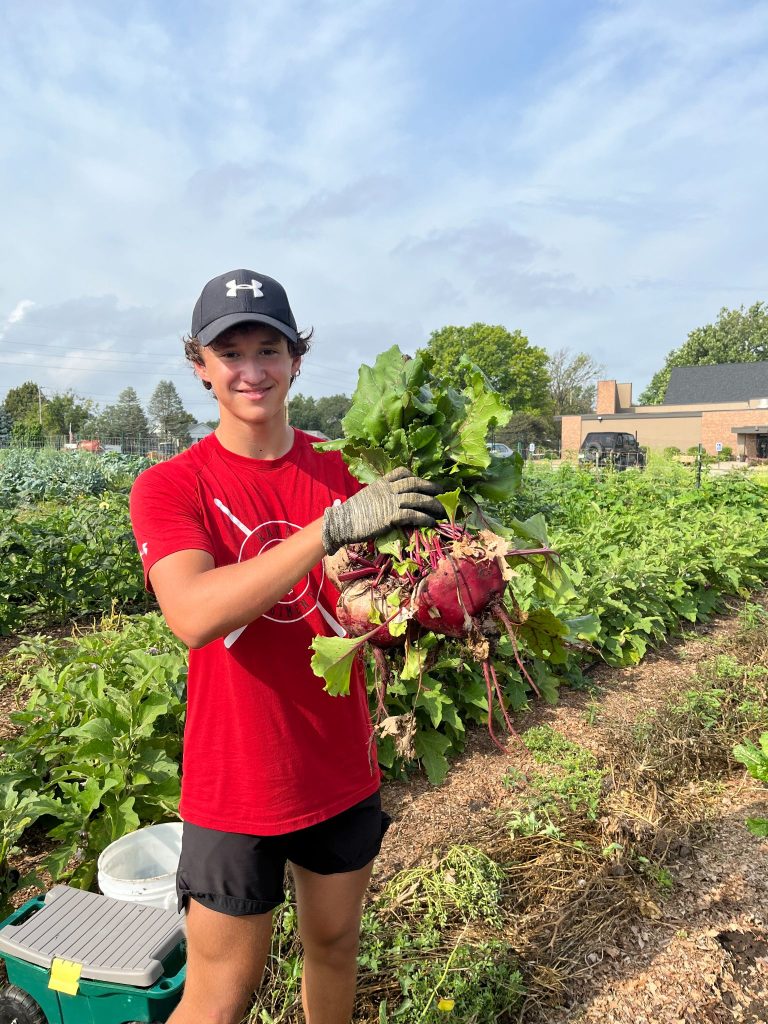 NICHOLAS BYRUM
Nick is a junior at Dowling Catholic High School who volunteered in the garden nearly every weekday this summer.
Nick is a hardworking young man and was a joy as a garden volunteer.
Nick will be honored for his service at the Faith & Grace Garden Dinner on October 24.
---
MEET NEW DIRECTOR OF THE CENTER FOR SOCIAL MINISTRIES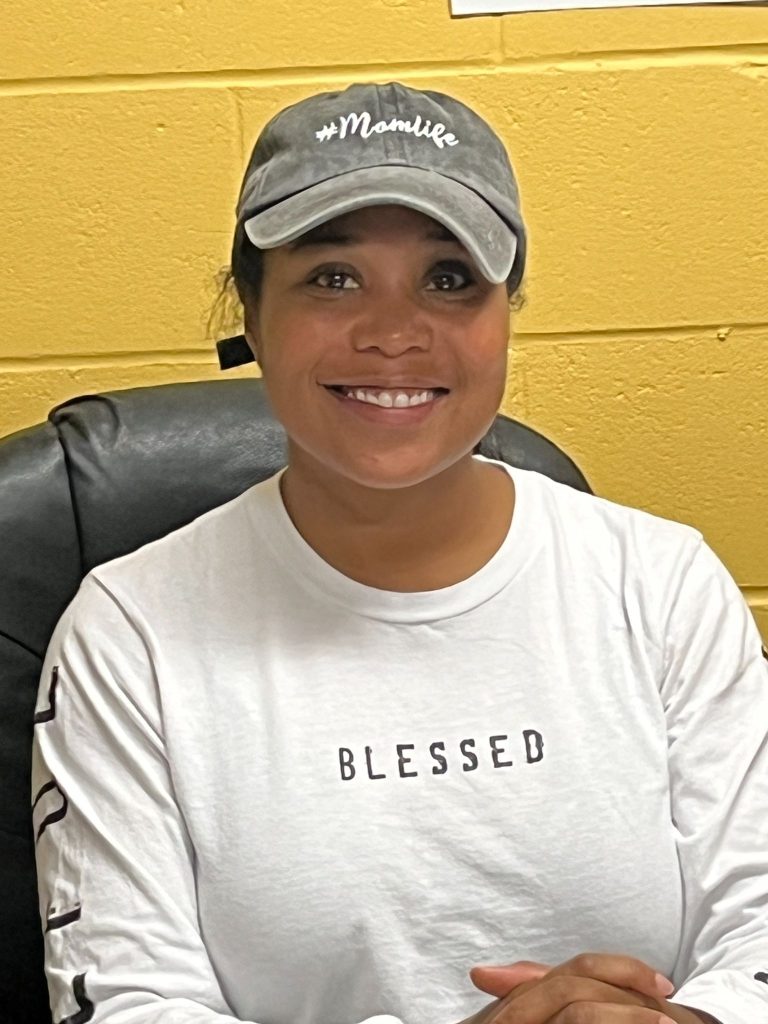 ERIKA BATY
The Center for Social Ministries (CSM) has prepared many of our volunteers to live into their faith as volunteers in the garden and throughout their lives. We are deeply grateful to CSM for all their support over the years.
Erika Baty recently joined CSM as their new director. We are very happy that Erika will join us for dinner on October 24.
---
On average, about 300 people volunteer in the Faith & Grace Garden annually. Some of our volunteers are students earning service hours. Others are part of a church, civic, or corporate service team. More than a few of our volunteers are community members or neighbors who love to spend time in a garden. While we cannot thank all our volunteers enough, we can recognize a few of our volunteers here.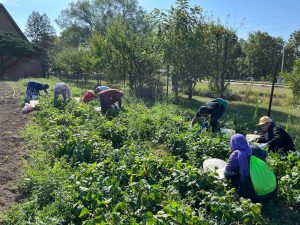 Refugee elders in Lutheran Services' Global Greens volunteer in the garden on Friday mornings throughout the summer and fall, and have done so for several years
Privacy issues prevent us from including their faces in this newsletter.
---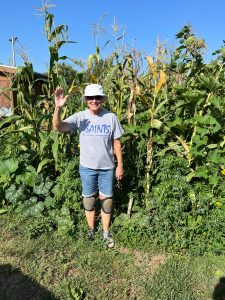 Bev has volunteered in the garden for about 10 years. She is mainly in the garden on Friday mornings.
Friday is a busy time in the garden as we are harvesting vegetables which are delivered to Trinity Los Americus for distribution on Saturday morning.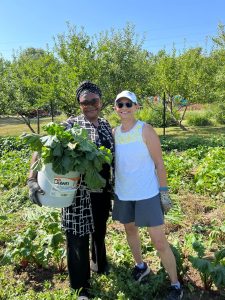 First year volunteer Marie mainly volunteers in the garden on Friday mornings.
Celeste has been a garden volunteer for 15 years. She mainly volunteers on Thursday and Friday mornings.
---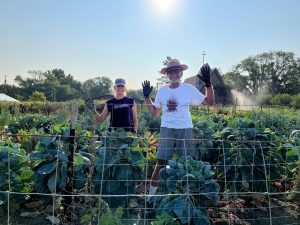 Kristi joined us in the garden this spring on mainly Wednesday and Friday mornings.
Dick is back for his second year in the garden and can be found in the garden on most weekday mornings.
---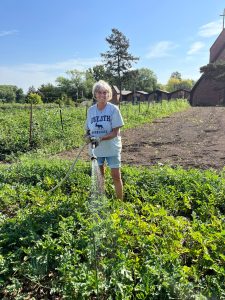 Lynn volunteers in the garden throughout the week and husband Randy helps with maintenance on our grounds and greenhouse.
Lynn likes to bring her grandchildren to the garden to help when she volunteers.
---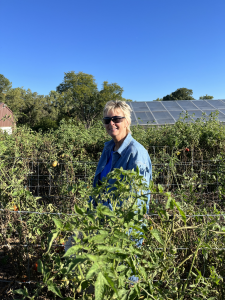 Mary has volunteered in the garden for the past two years usually on Monday and Friday mornings.
---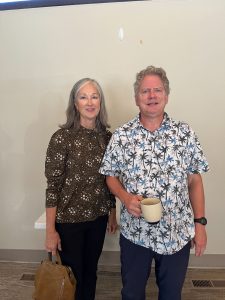 LeAnn and Chuck have volunteered in the garden for four years on Tuesday evenings as well as in the morning.
---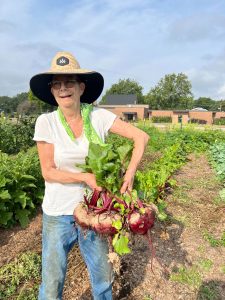 Sheila has volunteered in the garden for fifteen years. You can find her in the garden typically on Monday, Wednesday, and Friday or whenever we really need help.
---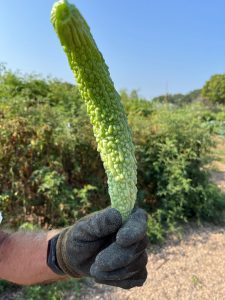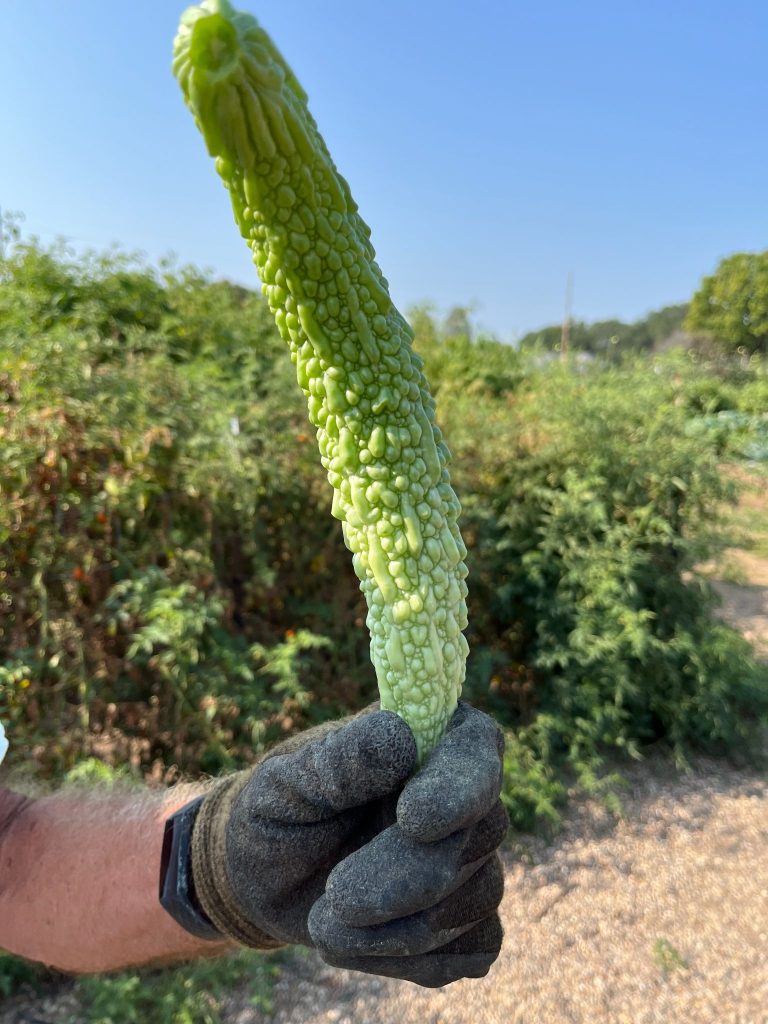 Name That Vegetable Contest 2023
Thanks for playing, but there were no correct guesses this year. The fruit below is Bitter Melon.
Bitter melon is in the gourd family and closely related to zucchini, squash, pumpkin, and cucumber. It is grown around the world, and a staple in many types of Asian cuisine.
---
Birdhouse gourds are a new addition this year in the garden.
Mark Marshall checks on the pumpkins growing on the north end of the garden.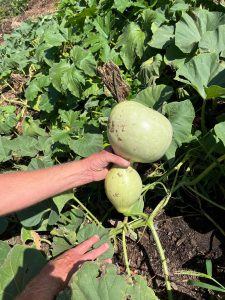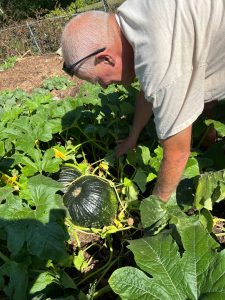 ---

Become a Garden Volunteer…feed the hungry…..love your neighbor….live your faith….could it get any better?!
Volunteer hours are now reduced as we near the end of the season:
Mondays and Friday only 9 am – 11 am
No experience necessary to volunteer in the garden. Bring a hat, water bottle and garden gloves if you have them. Wear clothes that can get dirty and hard-soled shoes. Sunscreen is a good idea, too.
To volunteer during our regular volunteer hours please sign-up here.
Large groups can volunteer by appointment. School, church, civic, and corporate groups are always welcome in the garden by appointment. Contact Tim Goldman at timothyjgoldman@gmail.com to volunteer as fits your schedule.