At last! Find us on Facebook at: Facebook.com/growthefood.org
Please check us out and "like" our site!
We are pleased as punch!
Tim Goldman and Mark Marshall, coordinators for the Faith & Grace Garden, received the 2013 Nourish Iowa Award from the The Food Access & Health Work Group of the Iowa Food Systems Council (IFSC) last week.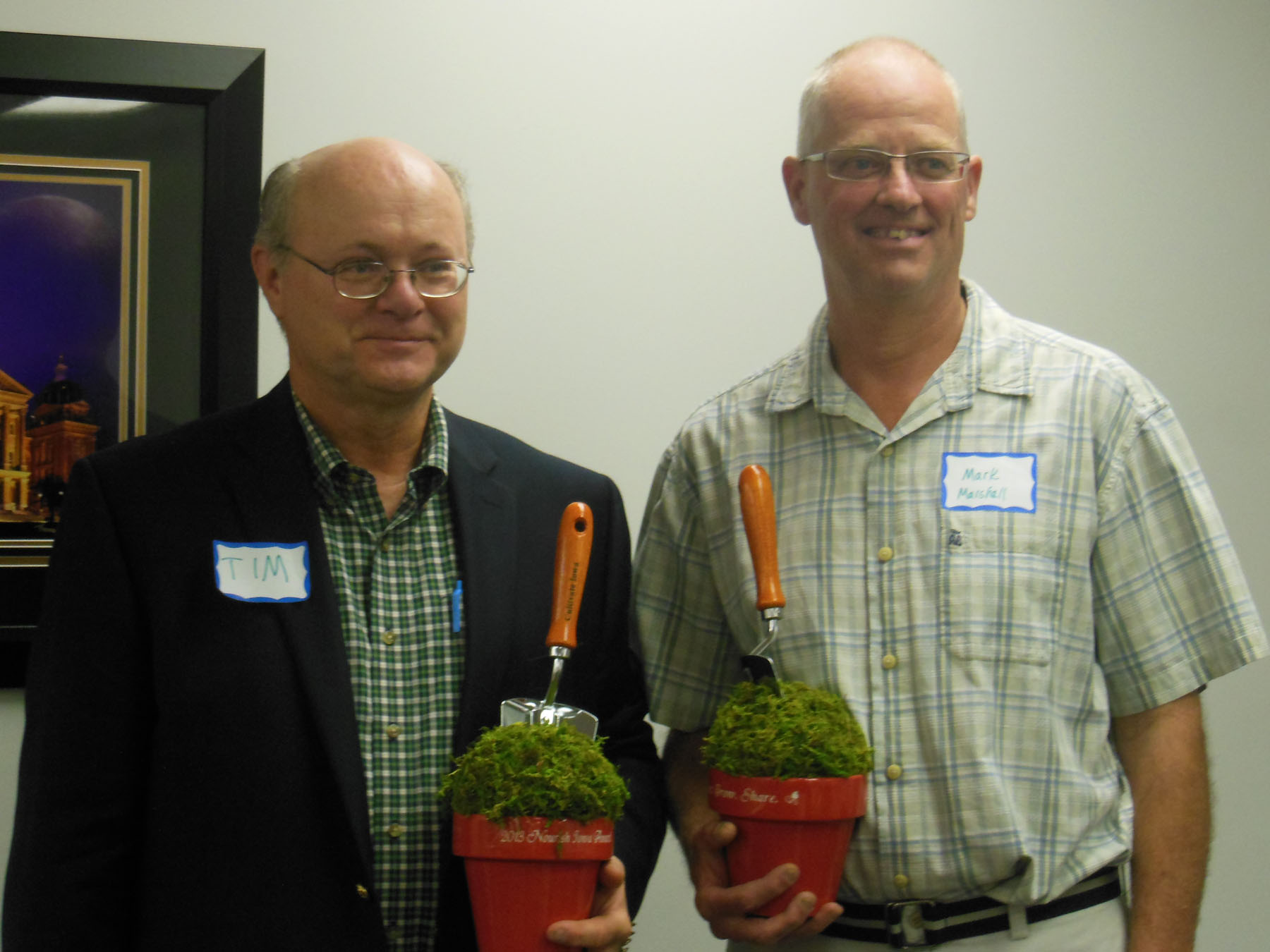 This is a wonderful memoir by a faith-based community gardener.
Soil and Sacrament: A Spiritual Memoir of Food and Faith  By Fred Bahnson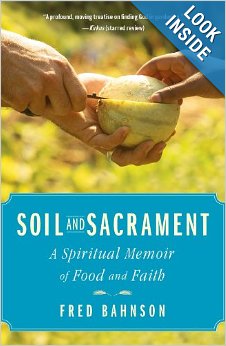 Moulton School – Fall Garden Clean-Up, Tuesday, October 22, 9 -11 am
Please come out next Tuesday if you can lend a hand at Moulton School with their garden clean-up.
For more information, please contact Susan Rushing at:  susan.rushing@dmschools.org
GOT LEAVES? BRING THEM TO THE FAITH & GRACE GARDEN
Despite the recent rains, it was another hot, dry growing season in the Faith & Grace Garden. We watered a lot, but the ground dried out so fast that many plants did not germinate and grow. We need more garden mulch next year, but straw bales are just too expensive!
A local horiculturalist told us that she uses shredded leaves to mulch her garden. She recommends that the Faith & Grace Garden do the same. 

Here's our plan for mulching the garden (please send us your leaves!):

The Faith & Grace Garden needs mulch this fall to cover newly planted garlic and the strawberry beds before winter.  More mulch is needed next spring throughout the garden to conserve water and discourage weed growth. In short, the garden needs a lot of mulch!
But where will we get lots of leaves?
The plan: You and I now pay $1.55 per empty leaf bag which we then fill with leaves and put on the curb to be hauled away.
Our plan calls for you to deliver bags of leaves to the Faith & Grace Garden. You will be saving money as well as helping a good cause.
The leaves can be delivered in either in 33 gallon plastic trash bags or similar sized paper leaf bags. (Use the cheaper "unstickered" bags.) All bags will be recycled. A leaf collection area will be designated in the grass on the northwest end of the St. Tim's parking lot.
No unbagged leaves, limbs, or other yard debris, please. By the way, no walnut tree leaves as these are detrimental to the growth of many garden plants.Shredded leaves will be stored in a chicken wire "leaf corral" in the garden and covered with a tarp until they are spread on the garden.
The program duration is from Saturday, October 19 through Saturday, November 23 with drop off times from 8am to 5pm, except Sunday mornings.
Also, the Faith & Grace Garden needs a gas-powered leaf shredder/mulcher. If you know of anyone who would like to donate one, please have them contact Tim Goldman at timothyjgoldman@gmail.com or by calling 745-9842. Thanks!
Here is some information sent to us by our friends at The Lord's Acre:
Pledge to take the SNAP Challenge:   The Supplemental Nutrition Assistance Program (SNAP, commonly known as food stamps) is the first line of defense for low-income Americans facing hunger. Do you know what it is like for the families in your community that struggle to put food on the table? Take the SNAP Challenge to help raise awareness about hunger in America by living on just $4.50 per day for food. Challenge yourself. Challenge your friends. See why Bob Aiken, President & CEO of Feeding America, is taking the SNAP Challenge, and wants you to join him.
RECIPES
Click here, here or here for some fall squash / pumpkin recipes. They are NOT just for pies or even just soups. One of the healthiest vegetables around and one that stores well into the next year (depending on variety), winter squashes / pumpkins are about as versatile as they come. From desserts to soup. From main dishes to baby food. These vitamin A powerhouses easily adapt to whatever you're asking them to become. Sweet or savory. Spicy or mild. If you didn't grow them, check out your local honor market or tailgate market for some fresh specimens.
UPCOMING EVENTS
Hope for the Hunger, November 16
600 Sixth Avenue
Des Moines, IA 50309
Registration Brochure
Chasing Ice – Undeniable Evidence of Climate Change – Thursday, 10/24 Fleur Cinema
Please join us for the upcoming movie night on Thursday, October 24, 2013 at the Fleur Cinema, Des Moines, Iowa at 7:00pm. The documentary film is entitled, Chasing Ice, and rated PG13. David Courard-Hauri, Director of the  Environmental Science & Policy Program at Drake University, will be hosting the event including an introduction to the film as well as a discussion following. Please see the additional film details below.
ABOUT THE MOVIE
Chasing Ice is the story of James Balog's mission to change the tide of history by gathering undeniable evidence of climate change. Using time-lapse cameras, his videos compress years into seconds and capture ancient mountains of ice in motion as they disappear at a breathtaking rate – See more at: http://www.chasingice.com
SYNOPSIS
In the spring of 2005, acclaimed environmental photographer James Balog headed to the Arctic on a tricky assignment for National Geographic: to capture images to help tell the story of the Earth's changing climate. Even with a scientific upbringing, Balog had been a skeptic about climate change. But that first trip north opened his eyes to the biggest story in human history and sparked a challenge within him that would put his career and his very well-being at risk.
Chasing Ice is the story of one man's mission to change the tide of history by gathering undeniable evidence of our changing planet. Within months of that first trip to Iceland, the photographer conceived the boldest expedition of his life: The Extreme Ice Survey. With a band of young adventurers in tow, Balog began deploying revolutionary time-lapse cameras across the brutal Arctic to capture a multi-year record of the world's changing glaciers.
As the debate polarizes America and the intensity of natural disasters ramps up globally, Balog finds himself at the end of his tether. Battling untested technology in subzero conditions, he comes face to face with his own mortality. It takes years for Balog to see the fruits of his labor. His hauntingly beautiful videos compress years into seconds and capture ancient mountains of ice in motion as they disappear at a breathtaking rate. Chasing Ice depicts a photographer trying to deliver evidence and hope to our carbon-powered planet.
The event is open to the public and will be at the standard movie rates.  Ticket costs are $9.00 for adults and $7.00 for seniors and kids.