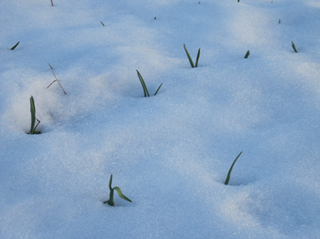 Only 28 Days Till Spring!!!
Garlic peeking through snow in January. We plant garlic in the fall and harvest it in June.
---
Beat the Heat This Summer!
Beat the summer heat by volunteering in the mornings on Tuesdays and Thursdays this season. Come for all or part of the time between 7:30am and 10am.
Volunteer groups are now being organized. Contact Tim Goldman for details.
---
10th Annual Feed Greater Des Moines Conference
Join us for the 10th Annual Feed Greater Des Moines Conference. This year's conference will focus on intersections; the intersection of refugee services and local food production and the intersection of housing and food insecurity. Attend workshops to learn how you can volunteer, donate and advocate for positive change.
Sponsors include Eat Greater Des Moines, Kum & Go, 818 Design, Campbell's Nutrition, Community Choice Credit Union, Grand View University, United Way of Central Iowa and WesleyLife.
Eat Greater Des Moines is a central Iowa-based organization that facilitates and builds connections to strengthen the area's food system. Their mission is to identify, develop, and connect resources with the broader community to support the entire food lifecycle in central Iowa. Learn more at: www.eatgreaterdesmoines.org
10th Annual Feed Greater Des Moines Conference
March 6, 2019 | 10am – 4:30pm
Grand View University Student Center
2811 East 14th Street
Des Moines, IA 50316
Facebook: eatgreaterdesmoines
Instagram: eatgreaterdesmoines
Twitter: EatGreaterDM
Event hashtag: #FeedDSM19
Facebook event page: https://www.facebook.com/events/2207053322871970/
Ticketing page and event landing page: http://feeddsm.com/
---
Garden Coordinator Mark Marshall enjoying the off season in Hawaii….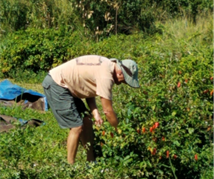 Mark Marshall and wife Sandy like to vacation in Hawaii once gardening season ends. They enjoy the ocean and time on the beach. Sandy says it's a great time for Mark to really relax….until he spied a church garden that needed some weeding last week.
Mark, hope you are enjoying your time away!
---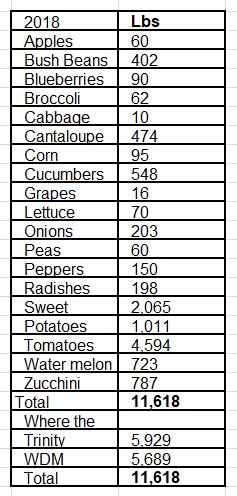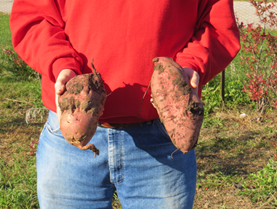 Looking back at last season – over 11,000 pounds donated!
This annual guide is a summary of currently suggested vegetable varieties, seeding rates, fertilizer rates, weed control, insect control, and disease control measures for commercial growers.
We think it also may be of some interest to organic gardeners and small farmers.
Created by Purdue University Extension. 240 pp. Available in hard copy from ISU Extension ($15), or as a free PDF from Purdue University.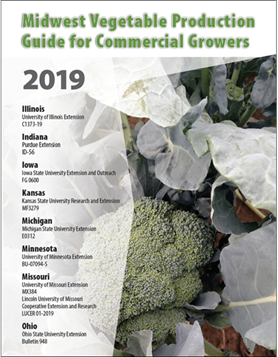 ---
For More Information on The Faith & Grace Garden
Tim Goldman -745-9842 timothyjgoldman@gmail.com
Mark Marshall -988-5381 wdmmarshall@msn.com