Volunteer at the Faith & Grace Garden!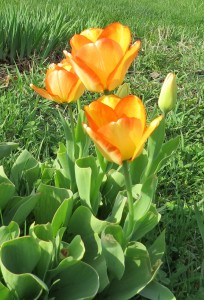 Why be a garden volunteer?…it gets you  outdoors….it's good exercise….it feeds hungry and homeless people… it's an opportunity to meet lots of other great volunteers….and now its easier than ever!
The Faith & Grace Garden is using VolunteerSpot to organize our upcoming Volunteer Sign-ups.
Here's how it works in 3 easy steps:
1) Click this link to see our Sign-Up on VolunteerSpot: http://vols.pt/2Tt1hq
2) Review the options listed and choose the spot(s) you like.
3) Sign up! It's Easy – you will NOT need to register an account or keep a password on VolunteerSpot.
Note: VolunteerSpot does not share your email address with anyone. If you prefer not to use your email address, please contact me and I can sign you up manually.
---
Picnic in the Garden
Friday, May 1 6pm
Let's Celebrate the Growing Season!!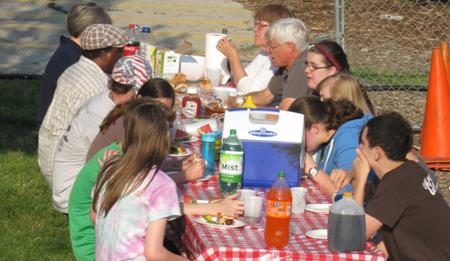 This will be our first picnic of the year, and you are invited! Here's the schedule:
6 pm or so – Potluck – Bring a side dish or something from the deli. Brats, burgers and a vegetarian casserole will be provided. There are picnic tables but you might bring a lawn chair, too.
7 pm or so – Gardening – We will start with a mini-tour so everyone gets familiar with the garden and knows where to find the restrooms, water fountain and first aid kit (we have not needed it in over two years). The picnic area, garden and playground are in close proximity of each other so it's pretty easy to watch the children.
8:30 pm or so – Gardening Conclusion
Please contact Tim Goldman at 745-9842 or timothyjgoldman@gmail.com  by 3 pm on Friday if you plan to attend the potluck.
---
Sweet Potatoes Anyone?

We will have about 400 sweet potato plants available in mid-May at no charge for other donation gardens (school, faith, refugee, etc.)
Please reply to this message if interested with your information and number of plants.

---
General News:

OF VEGETABLES and BATHTUBS: Here's a 6 minute video on growing food in bathtubs. Outside, of course.
PEDAL POWER –   Bicimáquinas are delightful machines that amplify human power at home, on farms, and anywhere legs can pump pedals. They are handmade from old bikes, concrete, wood, and metal. Check out the blender by Maya Pedal in Guatamala. Wouldn't you love to see these cranking out fruit smoothies at festivals this summer?
GOOD NEWS ABOUT SCHOOL LUNCHES:   The USDA has just announced new grants to help schools get equipment and training to make healthier school lunches. These lunches work, too, according to a new study in the journal Childhood Obesity. Kids began throwing away less food and eating more fruit after the healthier school lunch standards were adopted. This is despite the shameful fighting by the School Nutrition Association, described by Mark Bittman. I don't believe the lunch ladies I've known would support reducing school nutrition.

---
For More Information about the Faith & Grace Garden:
Tim Goldman -745-9842 – timothyjgoldman@gmail.com
Mark Marshall -998-5381 – wdmmarshall@msn.com