YUMMY!  COME CELEBRATE!
Second Annual Harvest Celebration Dinner
Saturday, September 26
Serving 5pm – 7pm
Parish Hall, St. Timothy's
1020 24th Street, WDM
(corner of 24th & Ashworth)

Join us for a wonderful Fall dinner featuring fresh produce from the Faith & Grace Garden Sat., Sept. 26, from 5-7pm at St. Timothy's Episcopal Church in West Des Moines.  Take a look at this fabulous menu!
Harvest Time Lasagna
Winter Squash Lasagna
Roasted Turnips, Apples and Dried Cranberries
Roasted Root Salad with Horseradish Vinaigrette
Sweet Potato, Apple, Cilantro Slaw
Corn, Peach, Tomato, & Onion Salad
Green Beans Vinaigrette
Coconut Bread
Chocolate Zucchini Bread
Guest Speaker: To Be Announced
Freewill donations gratefully accepted
---
 7th and Final Hope for the Hungry Conference
(note link to full brochure)

The final Hope for the Hungry Conference will be held November 7 from 9a.m. to 3 p.m. at the World Food Prize Hall of Laureates in Des Moines. The conference topics include, current hunger issues, current work to alleviate hunger, volunteering to alleviate hunger. The conference will include panel discussions and a keynote address by Matthew Russell of Drake University.
Registration is $40 (before Oct. 23) and more information can be found athttp://www.hopeforthehungry.blogspot.com/
Download a full brochure for more information
---
Is It Time to Thin Out Your Flower Beds?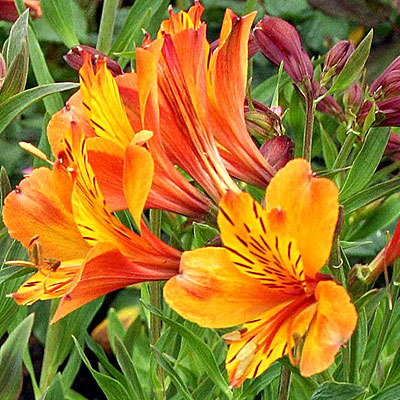 The Faith & Grace Garden needs spring and summer perennials for sun: Tulips, Daffodils, Daylilies, Siberian Iris, Black Eyed Susans, Coreopsis, Daisies, Salvia, Lavender, etc.
Are you thinning your flower beds and wondering what to do with all those extra tulip, daffodil, day-lily, allium, etc, bulbs? Or do you have some native flowering plants?
The Faith & Grace Garden is in need of spring and summer perennials, transplants, etc. Must tolerate full sun. Please sort by color and print color and variety on the container along with some planting instructions. Just drop them by on the picnic table by St. Tim's.
---
What's going on in the garden now?

We are harvesting tomatoes, beans, peppers, kale, turnips and radishes.
Soon we will plant garlic for harvest next June.
We have some cover crops in; a mixture of rye, hairy vetch and clover with more to plant.
We will be planting spring bulbs in the flower beds as soon as the ground dries out.
We are marking off fence line for our new "critter proof" fence. We hope to get the posts up yet this fall.
---
Regular Garden Volunteer Hours
Mon–Wed–Fri: 6:30pm–until dark | Sat: 10:30am-Noon
The Faith & Grace Garden is using VolunteerSpot to organize our upcoming Volunteer Sign-ups.
Here's how it works in 3 easy steps:
1) Click this link to see our Sign-Up on VolunteerSpot: http://vols.pt/pzbrtF
2) Review the options listed and choose the spot(s) you like.
3) Sign up! It's Easy – you will NOT need to register an account or keep a password on VolunteerSpot.
Note: VolunteerSpot does not share your email address with anyone. If you prefer not to use your email address, please contact me and I can sign you up manually.
---
Garden Production through September 12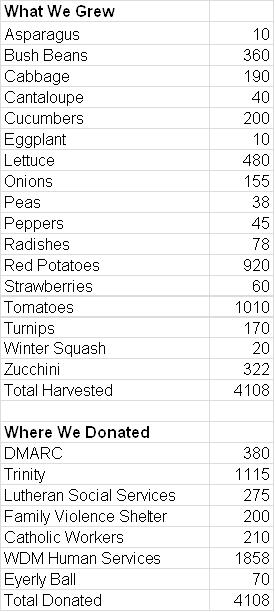 Tim Goldman – 515-745-9842
Mark Marshall – 515-998-5381