Spring Planting Update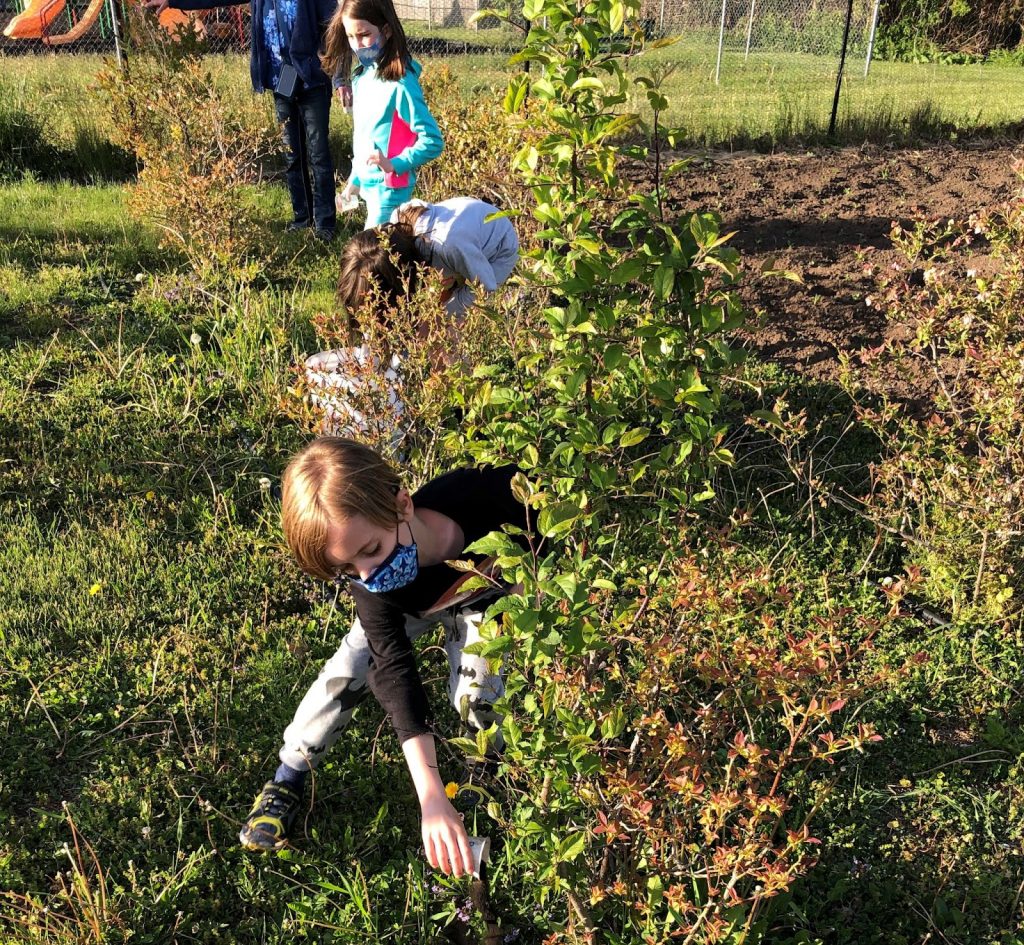 So far, we have planted cabbages (1,100), onions (5,000), and tomatoes (600) plus lettuce, spinach, beets, potatoes, and radishes in the garden.
Now, we are planting peppers and cucumbers. Soon, we will plant sweet potatoes, broccoli, Brussel sprouts, and cauliflower.
Weather forecasts point to a hot and dry summer this year. We are preparing for dry conditions by installing a drip irrigation system in the garden as we plant. After we install the drip system, we mulch the ground with leaves to retain moisture and to reduce weed growth.

Photos:(Right) Last week, youth from Covenant Presbyterian Church fertilized the blueberry bush. (Bottom) Dripper (red) is attached to a water line next to a  tomato plan and then mulched over.
---
Volunteer Times – Now Tuesday and Thursday Mornings, Too!
Volunteer times in the garden are as follows:
| | | | | |
| --- | --- | --- | --- | --- |
| | Monday | Tuesday | Wednesday | Thursday |
| May | 5:30-7:30pm | 9-11am | 5:30-7:30pm | 9-11am |
| June – Oct | 6-8pm | 9-11am | 6-8pm | 9-11am |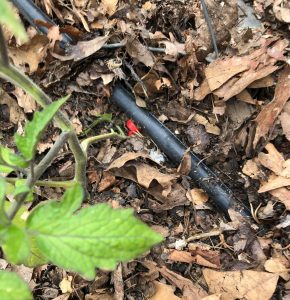 To sign-up to volunteer, go to here.
Why sign-up? It helps us to plan our activities and to communicate, especially when the weather looks bad and we need to cancel.
There are also opportunities to volunteer in the garden by appointment, contact Mark Marshall at 988-5381 or wdmmarshall@msn.com or Tim Goldman at 745-9842 or timothyjgoldman@gmail.com to arrange a convenient time.
We ask that volunteers coming to the garden observe the CDC's guidelines. If you are not fully vaccinated and wish to volunteer, please let us know and we will arrange to make your time in the garden safe for all.
As always, volunteers should dress for the weather, wear hard soled shoes, and bring garden gloves if you have them. Gloves are also available at the garden if you do not have them.
If you cannot volunteer your time, consider a financial donation to continue this important work. Send your check to St. Timothy's, 1020 24th Street, West Des Moines, IA, 50266. Please note Faith & Grace Garden in the memo line.