"The intelligent way to be selfish is to work for the welfare of others" — The Dalai Lama "What is the essence of life? To serve others and to do good."— Aristotle "The meaning of life is to find your gift. The purpose of life is to give it away." — William Shakespeare "Only a life lived for others is worth living. — Albert Einstein "The best way to find yourself is to lose yourself in the service of others."— Mahatma Gandhi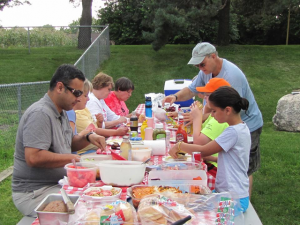 Its National Volunteer Week….
Cinco De MayoOn Friday, May 5 come celebrate all things Latino with a potluck picnic starting at 6pm followed by gardening at 7pm.

Potluck  – 6pm
Bring a side dish and dinnerware
Burgers, brats, buns and beverages provided
Gardening   7pm
Kids in Bed 9pm
---
BE A GARDEN VOLUNTEER!
HERE'S HOW:
Students Wishing to Earn Service Hours by volunteering in the Garden, Register Here:
http://signup.com/go/gUJ9V1
Everyone else wishing to volunteer in the Garden, Register Here:
http://signup.com/go/WGsJLt
Why register? It allows us to advise you of last minute cancellations due to weather, etc.
We're using SignUp.com to organize our upcoming SignUps.
Here's how it works in 3 easy steps:
1) Click this link on the left to see our SignUp on SignUp.com
2) Review the options listed and choose the spot(s) you like.
3) Sign up! It's Easy – you will NOT need to register an account or keep a password on SignUp.com.
4) Remember to click the green  SAVE button after you have selected your sign ups.
Note: SignUp.com does not share your email address with anyone. If you prefer not to use your email address, please contact me and I can sign you up manually.
---
Tim Goldman 515-745-9842 – timothyjgoldman@gmail.com
Mark Marshall 515-998-5381 – wdmmarshall@msn.com