Thank you Ashworth Road Baptist Church Volunteers!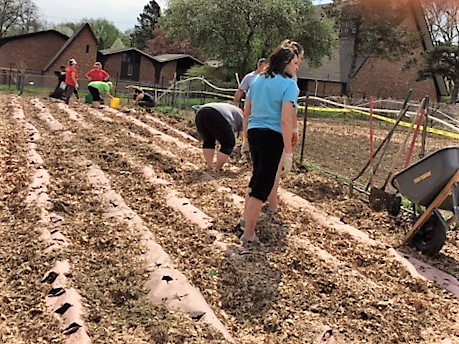 On Saturday morning 20 volunteers from Ashworth Road Baptist Church gathered in the garden and planted over 1200 row feet of potatoes. This is the earliest time in memory that we have had all the potatoes in the ground!!
Mary Flynn, 86, (Second Photo Below)  prepares seed potatoes for planting. When Mary is not in the Faith & Grace garden she is in her home. Last year Mary bought us nearly 200 pounds of cucumbers to donate!!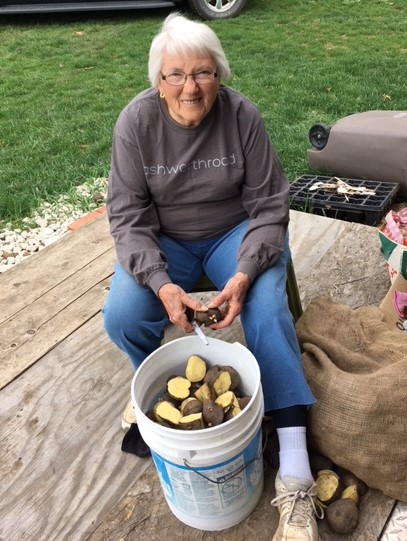 ---
VegLife Des Moines Forms Garden Team
VegLife Des Moines (3rd Photo Down) is a new non-profit formed by local vegans to help the veg community thrive and make it easier for more people to enjoy a VegLife in our community. They will be in the garden volunteering on Monday evenings.
For more information about VegLife contact: info@veglifedesmoines.org
or go to:http://veglifedesmoines.org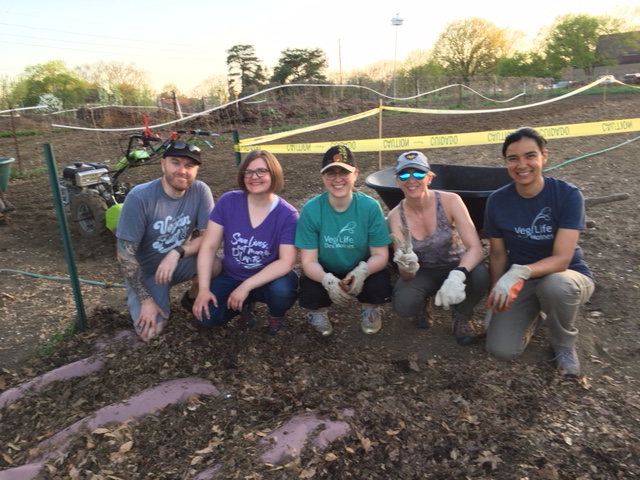 ---
Would your group like to volunteer in the garden? Contact Tim Goldman for available dates and  times.
Upcoming dates and volunteer groups:
May 15 – Habitat for Humanity
May 16 – Covenant Presbyterian Youth Group
May 23 – Waukee High School
Memorial Day Weekend – Walnut Hills Church
June 8 – Deloitte Services
Wednesday evenings in July – Ashworth Road Baptist Church
Monday evenings all season – VegLife Des Moines
You can also volunteer as an individual or with a friend. To make volunteering in the garden easy, we're using SignUp.com to organize our volunteer program.
Why register? It allows us to advise you of last minute cancellations due to weather, and keep you informed of what we will be doing when you volunteer.
Here's how it works in 3 easy steps:
1) Click the link below to register as a volunteer on SignUp.com
http://signup.com/go/epvdYtE (New link!)
2) Review the options listed and choose the spot(s) you like.
3) Sign up! It's Easy – you will NOT need to register an account or keep a password on SignUp.com.
The signup process may invoke pop-up windows that could be disallowed by computers running pop-up blocker applications – Please watch for notifications requesting permission to access and use the sign-up.
Note: SignUp.com does not share your email address with anyone. If you prefer not to use your email address, please contact me and I can sign you up manually.
Tim Goldman 515-745-9842 timothyjgoldman@gmail.com
Mark Marshall 515-988-5381 – wdmmarshall@msn.com