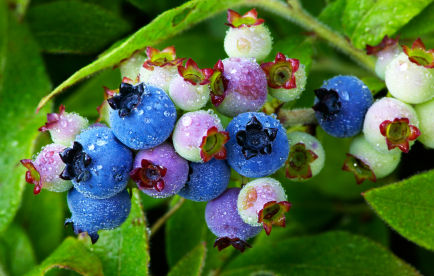 Blueberry picking is now in full swing in the garden! Help is needed harvesting as well as watering. Come out and help for an hour. Volunteer times are available by appointment, call text or Mark at 515-988-5381 to arrange a convenient time.
We ask that volunteers coming to the garden observe the CDC's guidelines,  Prevention of Coronavirus Disease 2019 (COVID-19)
including frequent hand-washing, and avoiding direct physical exchanges with other gardeners. Most importantly, if you are feeling ill, have family members or friends who are ill, have been to a location where COVID-19 is prevalent, or are at-risk or immunocompromised, please refrain from volunteering in the garden.
As always, volunteers should dress for the weather, wear hard soled shoes, and bring garden gloves if you have them. Gloves are also available at the garden if you do not have them.
If you cannot volunteer your time, consider a financial donation to continue this important work. Send your check to St. Timothy's, 1020 24th Street, West Des Moines, IA, 50266. Please note Faith & Grace Garden in the memo line.
---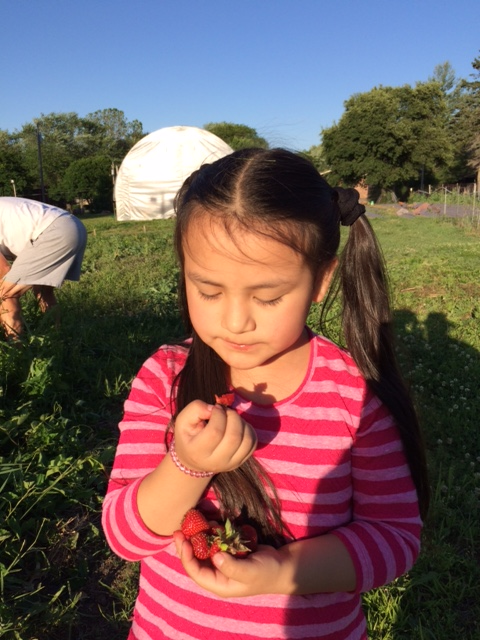 The Goaillos family have volunteered in the garden for many years. Sophia started volunteering when she was 5. Now 10, Sophia and father Sergio were planting peppers in the garden on Saturday.
We know of a gentleman with 20 years of experience in ag/greenhouse research and production. For the past nine years though, he drove a courtesy shuttle/checking in cars/performing dealer trades for a local Des Moines dealership. While at the dealership he continued his interest in container gardening, food security (food packaging, IA Hunger Summit), etc. He is currently seeking new employment in the ag/horticulture areas or in the area of local food. Please contact Tim Goldman for details and resume.
---
Here are harvest and donation results through June 10th

Pounds Harvested:
Asparagus
75
Lettuce
352
Spinach
30
Peas
240
Radishes
20
Total Harvested
717
PoundsDonated:
Johnston Food Pantry
182
Trinity Methodist
285
WDM Human Serv
235
Catholic  Workers
15
Total Donated
717
---
Here are seedlings donated from the Faith & Grace Garden Greenhouse:
# Seedlings thru 6/10
Organization
25 Refugee Farmers – special thanks to Lutheran Services of Iowa (LSI)
14,000
Trinity Americas Church (food pantry for redistribution)
1,794
Central Iowa Shelter & Services Garden
288
St Francis of Assisi Garden
162
Fruitful Vine Garden (Waukee)
126
Daniels Garden (Altoona)
250
Christ the King School Garden
80
St James Lutheran Community Garden
36
Drake University Sprout Garden
18
Van Meter United Methodist Giving Garden
132
Cornerstone Church
68
Needy Individuals
464
Bidwell Riverside
120
Total donated through June 22
17,538

Tim Goldman 515-745-9842 timothyjgoldman@gmail.com
Mark Marshall 515-988-5381 wdmmarshall@msn.com