Welcome, Spring & Welcome Garden Volunteers!
Garden Opens on Monday, March 28th 2016
The Faith & Grace Garden is using VolunteerSpot to organize our upcoming Volunteer Sign-ups.
Here's how it works in 3 easy steps:
1) Click this link to see our Sign-Up on VolunteerSpot: http://vols.pt/kWyw79
2) Review the options listed and choose the spot(s) you like.
3) Sign up! It's Easy – you will NOT need to register an account or keep a password on VolunteerSpot.
Note: VolunteerSpot does not share your email address with anyone. If you prefer not to use your email address, please contact me and I can sign you up manually.

---
Nathan Dickerson sits atop his Eagle Project:
Shelving for the high tunnel at the Faith & Grace Garden.
Great job, Nathan, and Boy Scout Troop 202!!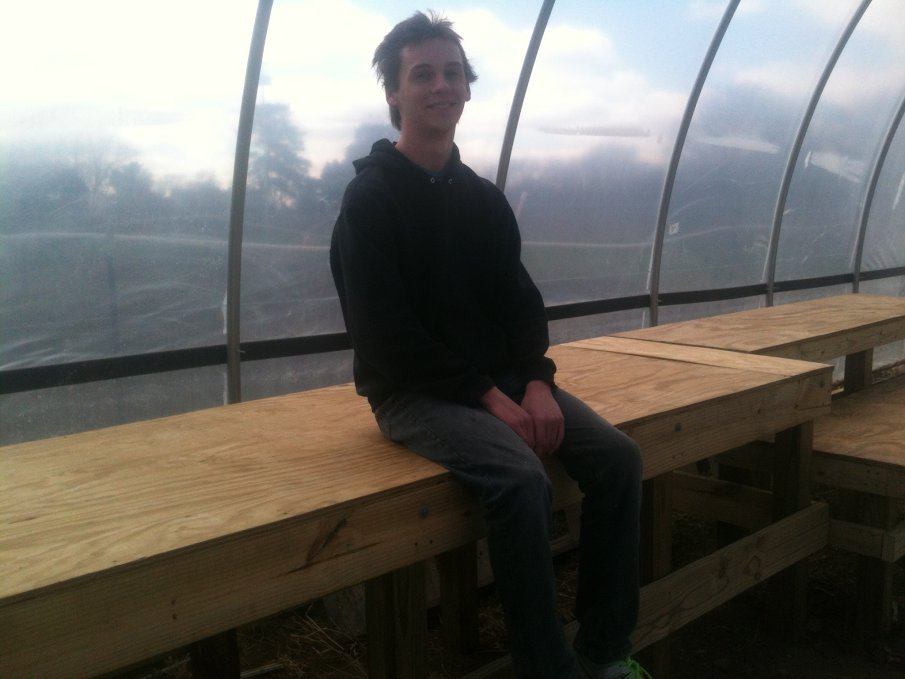 ---
A Garden Wish List
Urban Farmer with little income needs help (we struck those items where you have helped, thanks!!)
Small hand tools,
1. 6 foot or taller fence poles,
2. any food grade bucket or pails;
3. a small garden tractor in need of fixing up (we could use one with a front end loader),
4. small generator, water pump,
5. hand washing station,
6. a 200 gallon and several 350 gallon plus water containers,
7. fence panels, hoop house/ green house,
8. heating pads for plant trays
Finally, if you know of anyone that has Boy Scout clothes that will fit a 10 year old. We sure would appreciate the help. I have a little money, but can't afford any of that stuff brand new.
If you can help contact Tim Goldman 515-745-9842 – timothyjgoldman@gmail.com
---
News from our friends at The Lord's Acre……
Nutrition for Older Adults: Tufts University, in partnership with the AARP Foundation, released an updated MyPlate for Older Adults.  It reflects the latest nutrition science and is intended to target the unique needs of the 50+ community.  See here for the release. And here for a new website with tips, recipes and more.
For consumers who are trying to understand the concerns about GMO foods:  Here's a great article in Civil Eats by veteran Reuters reporter, Carey Gillam, about how FDA plans to start testing for glyphosate residues in food. Glyphosate is the most widely used herbicide (thanks in large part to genetically engineered crops designed to resist the chemical in various formulations including Monsanto's RoundUp herbicide), recently linked to cancer.
---
For more information about the Faith & Grace Garden
Tim Goldman 515-745-9842 – timothyjgoldman@gmail.com
Mark Marshall 515-998-5381 – wdmmarshall@msn.com