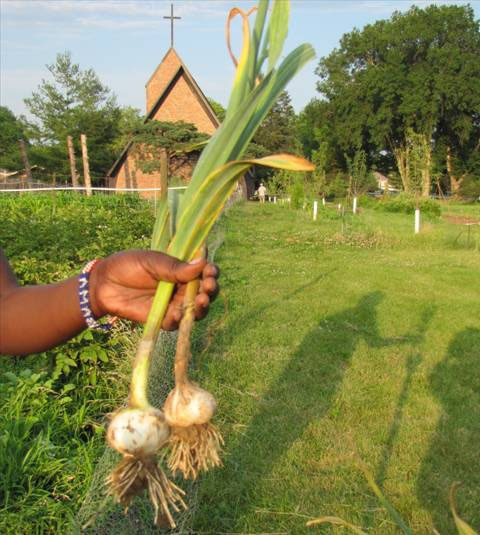 Hoping for rain…
Seems like all the rain has been going around the garden, but tomorrow looks promising!
Here are harvest and donation results through July 8, 2023
---
Fruit/Vegetable Pounds Harvested
Asparagus 15
Beets 245
Broccoli 73
Cabbage 120
Cauliflower 105
Collards 145
Cucumbers 212
Egg plant 8
Garlic/ garlic scapes 102
Kale 137
Lettuce 453
Mustard 115
Radishes 50
Spinach 230
Summer Squash 180
Swiss Chard 215
Turnips 292
Total Harvested
2,697
Garlic harvest 30% complete.
We grow several varieties of hardneck garlic, including Spanish Roja, Italian purple, German red, and Music.
Watering, weeding and harvesting are keeping us very busy in the Faith & Grace Garden. Your help for even an hour will be most appreciated!
---
Donation sites/Pounds Donated
Lutheran Services 190
Trinity Las Americas 1,052
Johnston Food Pantry 185
WDM Human Services 1,270
Total Donated 2,697
Become a Garden Volunteer…feed the hungry…..love your neighbor….live your faith….could it get any better?!
Regular volunteer hours for individuals and small groups:
Monday through Friday 8 am – 10 am from June 5 – September 15
Monday through Friday 9:00 am – 11:00 am from September 18 through October 27
Tuesday evenings 6:00 pm – 8:00 pm starting May 2 through August 22
Tuesday evenings 5:00 pm – 7:00 pm from August 29 through October 24
No experience necessary. Bring a hat, water bottle and garden gloves if you have them. Wear clothes that can get dirty and hard-soled shoes. Sunscreen is a good idea as is bug repellent later in the season.
To volunteer during our regular volunteer hours please sign-up here. https://www.signupgenius.com/go/10c0a4aa9a82ea6f58-2023#/
Large groups volunteer by appointment. School, church, civic, and corporate groups are always welcome in the garden by appointment. Contact Tim Goldman at timothyjgoldman@gmail.com to volunteer as fits your schedule.