Harvest Celebration: Monarch tagging and dinner
Saturday, September 17 starting at 4:30 pm
Covenant Presbyterian Church
Corner of 28th Street & Ashworth Rd, West Des Moines

Join us for a wonderful late afternoon get together starting with a dedication of the pollinator beds at the Faith and Grace Garden followed a demonstration of Monarch Butterfly tagging by the Polk County Conservation Commission.
Then join us for dinner featuring:
Crackers/Baguette with Roasted Eggplant & Tomato Jam
Harvest Time Lasagna Vegetarian
Winter Squash Lasagna Vegetarian
Sweet Potato-Corn Salad with Honey Mustard Dressing
Corn, Peach, Tomato and Red Onion Salad
Chocolate Pineapple Zucchini Bread
Sweet Potato Coconut Bread
Saturday, September 17, 2016
Butterfly Tagging: 4:30-5:30pm
Harvest Dinner: 5:30-7:00pm
Freewill donations are welcome.

---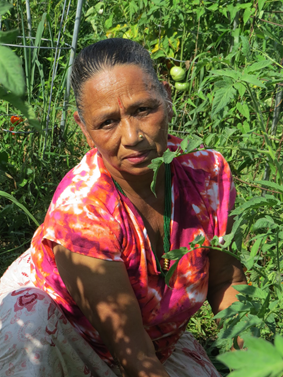 2016 Refugee Garden Program Ends

10 – 15 Bhutanese refugees have been volunteering each Thursday morning from late May through mid-August in the Faith & Grace Garden for the past four years.  We work together for a couple of hours then snack on some fruit in the shade.
Last Thursday we bid farewell to our Bhutanese friends who practice their English while teaching us about the health and nutritional benefits of many of the native plants that grow in and around the garden.
We are already looking forward to next year!
Saraswoti (Pictured to the Left) was a new volunteer this year.
Picture by Marilyn McKinney.
---
Using Epsom Salts on Tomato and Pepper Plants – Now Is the Time 
Interesting article on perking up production in the late season:
http://www.harvesttotable.com/2012/08/epsom-salt-tomato-and-pepper-growing/
---
Controlling Insects
What's Wrong With My Garden: Part 1: How to manage insect pests. High Mowing Organic Seeds seed company offers good advice with photos in order to help you identify the most common garden pests per each crop and offers sound advice for low-cost intervention.
What's Wrong With My Garden: Part 2: Demystifying common diseases. And here you go for the disease end of things.
---
Regular Garden Volunteer Hours
Mon–Wed–Fri: 6:30pm–8:30pm | Sat: 10:30am-Noon

The Faith & Grace Garden is using Signup.com (formerly VolunteerSpot) to organize our upcoming Volunteer Sign-ups.Here's how it works in 3 easy steps:
1) Click this link to see our Sign-Up:http://vols.pt/kWyw79
2) Review the options listed and choose the spot(s) you like.
3) Sign up! It's Easy – you will NOT need to register an account or keep a password on Signup.com.
Note: Signup.com does not share your email address with anyone. If you prefer not to use your email address, please contact me and I can sign you up manually.
Tim Goldman 515-745-9842 –timothyjgoldman@gmail.com
Mark Marshall 515-998-5381 –wdmmarshall@msn.com
---
Growing season 2016 by the Numbers