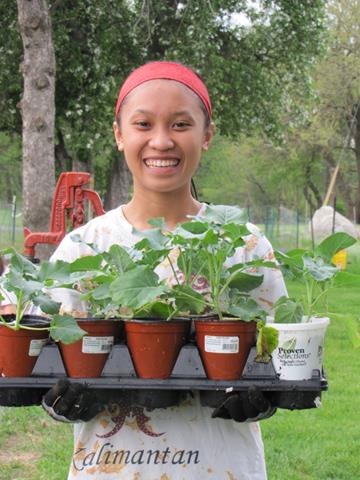 Greetings from Meutia Hakim!
Meutia, a Valley High School foreign exchange student four years ago, sent a message last week to say how much she loved her time as a volunteer  in the Faith & Grace Garden. She said her time in the garden and experience as a Wallace Foundation Real Soil, Real Food, A Real Difference summer camp Scholarship Winner are fond memories that are still shaping her future.
Meutia is now back home in Indonesia majoring in Food Technology at Surya University. Meatia would like to return for visit to the garden and possibly pursue graduate studies in the US.
---
Harvest Celebration Help Wanted!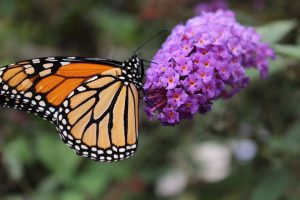 Harvest Celebration: Monarch tagging and dinner
Saturday, September 17 starting at 4:30 pm
Covenant Presbyterian Church
Corner of 28th Street & Ashworth Rd, West Des Moines


Join us on Sat., Sept. 17, for a wonderful late afternoon get-together starting with a dedication of the pollinator beds at the Faith and Grace Garden followed by a demonstration of Monarch Butterfly tagging by the Polk County Conservation Commission.  Then join us for dinner featuring fresh produce from Whole Foods and the Faith & Grace Garden.  Choose from two unique homemade lasagnas, a delicious compliment of fresh-grown sides, and your choice of dessert!  Butterfly Tagging: 4:30-5:30pm; Harvest Dinner: 5:30-7:00pm, at Covenant Presbyterian Church, corner of 28th Street & Ashworth Rd, West Des Moines.
Can you help us make this event a success? We need help with preparations, cooking and cleaning up. This is a great opportunity for students wanting the earn service hours. For details see: http://signup.com/go/49v5NV
---
Soil Society of America

The Soil Science Society of America created a blog, Soils Matter, to help the public understand this precious natural resource. The blog can be found here .
Recent topics included tips about soil testing, and whether synthetic or natural fertilizers are the best plant nutrients. Regular Soils Matter contributor Clay Robinson says, "Naturally, soil scientists find soils interesting, but we want to help people understand that soils are so much more than dirt. The air people breathe, food they eat, water they drink, clothes they wear, and places they live, all depend on the soil. Soil scientists can help people learn how to use soil wisely, balancing conservation and productivity, so future generations can benefit from the soil as we do."
In addition, SSSA has public information about soils on their website, under the tab "Discover Soils."
---
Congratulations to Nathan Dickerson, Eagle Scout!
A call to more scouts interested in Eagle projects
Nathan was awarded the rank of Eagle Scout in a ceremony on September 5. Nathan's Eagle project was building shelving in the garden high tunnel.
If your church or community organization is affiliated with a scout troop, please let them know that the Faith & Grace Garden is a great source for Eagle projects. Contact Tim Goldman for details.
---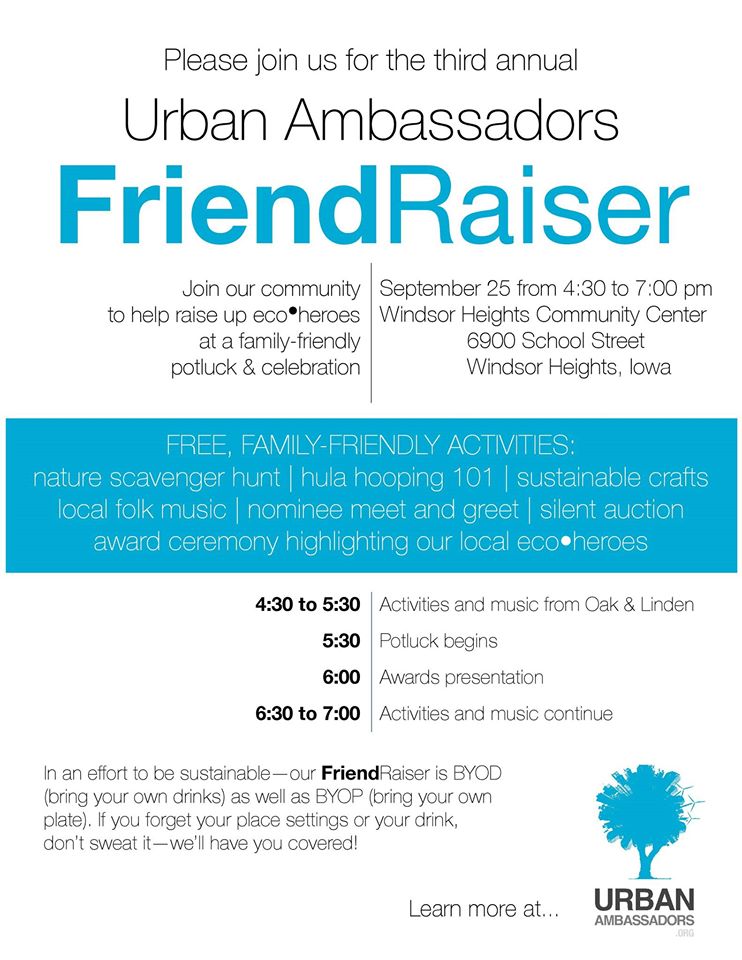 Are you interested in sustainability?
The goal of Urban Ambassadors  is to grow our green network in Des Moines.
To learn more and become involved attend their upcoming FriendRaiser. http://www.urbanambassadors.org/friendraiser/
Find them on Facebook for more details. https://www.facebook.com/events/937763712947037

---
Regular Garden Volunteer Hours
Mon–Wed–Fri: 6:30pm–8:30pm | Sat: 10:30am-Noon

The Faith & Grace Garden is using Signup.com (formerly VolunteerSpot) to organize our upcoming Volunteer Sign-ups.Here's how it works in 3 easy steps:
1) Click this link to see our Sign-Up:http://vols.pt/kWyw79
2) Review the options listed and choose the spot(s) you like.
3) Sign up! It's Easy – you will NOT need to register an account or keep a password on Signup.com.
Note: Signup.com does not share your email address with anyone. If you prefer not to use your email address, please contact me and I can sign you up manually.
Tim Goldman 515-745-9842 –timothyjgoldman@gmail.com
Mark Marshall 515-998-5381 –wdmmarshall@msn.com